Expand your network and grow your career with Women in Manufacturing
Membership with Women in Manufacturing® (WiM) provides you with personal and professional development opportunities. Being a member of the WiM community enables you to:
Establish meaningful connections with your peers and expand your network
Gain valuable industry insight and education to further your career
Improve leadership and communication skills
Participate in partner programs as well as local and national WiM events

WiM offers four distinct categories of membership.
Each category is unique!
Individuals may join as either a Student, Professional, or Professional Plus member, and companies may join as a Corporate member. Benefits and enrollment rates vary depending on which membership best suits you and your organization.
Corporate members have the ability to enroll an unlimited number of their employees into their membership.
For more information regarding each category of membership, please visit the Overview of Benefits
---
Explore Member Benefits with WiM!
Signature Events
SUMMIT
Attracting hundreds of manufacturing professionals from around the country, the WiM SUMMIT is the only national conference of its kind. In 2020, this FOUR-day networking and educational event will feature virtual manufacturing plant tours, keynote presentations, roundtable discussions, breakout sessions, and social hours to expand participants' networks.


WiM North, WiM South, & WiM West
WiM's regional conferences are annual events for women (and the men who support them) who are navigating through their manufacturing careers. The conferences include a day of learning from industry experts and connecting with peers from across the manufacturing industry—from the Shop Floor to the C-Suite, or anywhere in between.

Summer Leadership Conference
SLC is an exclusive, thought-leadership event for WiM's National Board of Directors and members of the Corporate Partnership Council. Corporate members are able to send two representatives from their organization at no cost.
---
Other Signature Programs
The Coalition for Women in Industry is an annual meeting of association executives and industry leaders dedicated to addressing the need to attract, retain, and advance women in industry.
Women in Manufacturing Hall of Fame
:
Women in Manufacturing (WiM) has launched the first-ever Women in Manufacturing Hall of Fame and will induct its inaugural class on October 1, 2020. The Hall of Fame seeks to recognize women who have made exceptional contributions to the manufacturing industry and to the advancement of women in the field.
The Management Development Program (MDP) provides new and aspiring supervisors, managers and team leaders, who have three or less years of experience, with training to develop skills that are necessary for managerial success. The MDP takes place over four unique sessions, two of which are in-person. Some of the topics covered include: Effective Communication with DISC, Navigating Difficult Conversations, Ongoing Performance Management, Dynamic Presentations, Finance for the Non-Financial Manager, and many others.


The Women in Manufacturing Association® (WiM) and Case Western Reserve University's Weatherhead School of Management, with the generous support of the WiM Education Foundation (WiMEF), have collaborated to produce the Leadership Institute for Women in STEM and Manufacturing. Leadership Institute is an executive education program which concentrates on issues pertinent to women working in male-dominated fields with specific focus on women in industry. Since its launch in 2016, the program has graduated more than 50 outstanding women who have advanced in their roles and have added great leadership value to their organizations.

The Leadership Consortium training program (LC) provides higher-level leaders (those that manage other leaders), with experiential learning to develop skills that are necessary for transformational leadership success. Organizations thrive when their top leaders inspire and lead other leaders. The LC helps these leaders create an environment where they fully capitalize on all of the talent of the leaders they lead.
---
Local Chapters
WiM has a developing network of statewide and region-based chapters so that members can better connect on a local level via mentoring, networking, and events. Each chapter offers activities and programming specific to the unique needs of the local area served.

For detailed information of WiM's chapter activities, please visit the individual webpages which highlight the programming, officers, and characteristics of each WiM chapter.
Find a chapter in your area!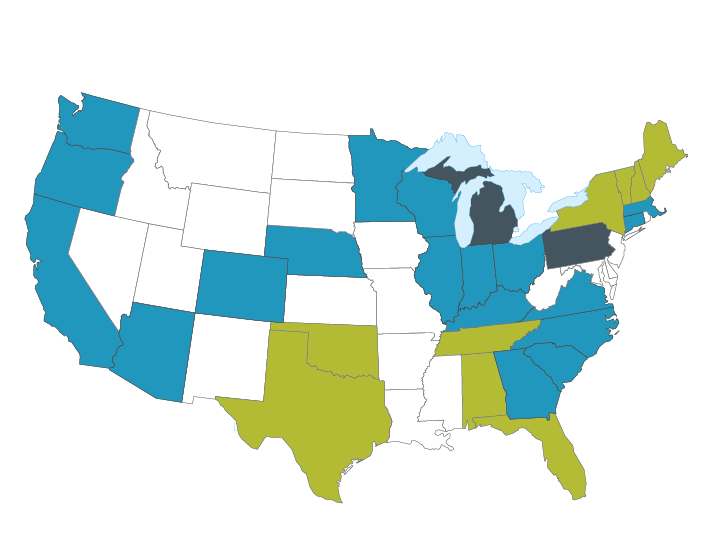 Current State Chapters

New Chapters in 2020/2021

States with Multiple Chapters
---
Virtual Learning Series

View the entire VLS 2020 schedule here
---
Member Exclusive Discounts

WiM has built connections with leading organizations to provide association members with exceptional opportunities to reduce expenses on products and services that they use every day. As a WiM member, you have access to exclusive discounts on industry-tailored services that easily offset your cost of your membership!
Current Affinity Partners
ADP
American Express
APPI Energy
PartnerShip
YRC Freight
Xena Workwear



---
Member Directory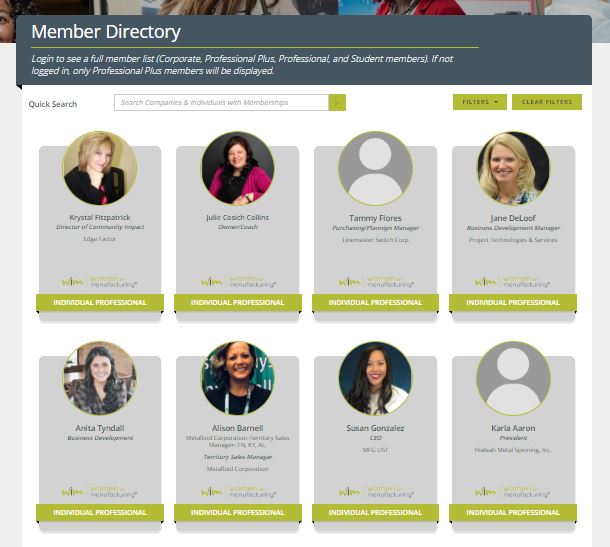 Have your professional profile listed in the only online directory of women in manufacturing! Connect with other WiM members through a secure platform and showcase your areas of expertise.
Professional Plus members are highlighted as subject matter experts and can be contacted by anyone who accesses the WiM member directory, generating business leads and speaking opportunities.
Filter the member directory by chapter affiliation to find WiM members in your area to expand your local network. Keep your profile up to date by accessing your WiM member compass.
---
IMPACT Monthly E-newsletter
Enjoy insights from Women in Manufacturing delivered directly to your inbox! Each month our IMPACT e-newsletter celebrates the accomplishments of our members, highlights programming opportunities from WiM and our local chapters, and provides updates on the industry and our partner organizations.
Each issue includes:
Hear Her Story feature - a monthly interview with a WiM member
WiM Members on the Move - highlights member promotions and career advancements
Letter from the President - current insights from WiM Founder Allison Grealis