WiM Chapters
WiM has 24 active Chapters around the United States
What are WiM Chapters?
WiM has a developing network of state-based Chapters so that members can better connect on a local level via mentoring, networking, and events. Each Chapter offers activities and programming specific to the unique needs of the local area served. For detailed information of WiM's Chapter activities, please visit the individual webpages which highlight the programming, officers, and characteristics of each WiM Chapter.
What types of events do they host?
Chapters host a variety of networking, professional development, and educational programs. In 2018, our Chapters around the United States hosted nearly 100 diverse events for our members and manufacturing professionals! Take a look at some of these events below: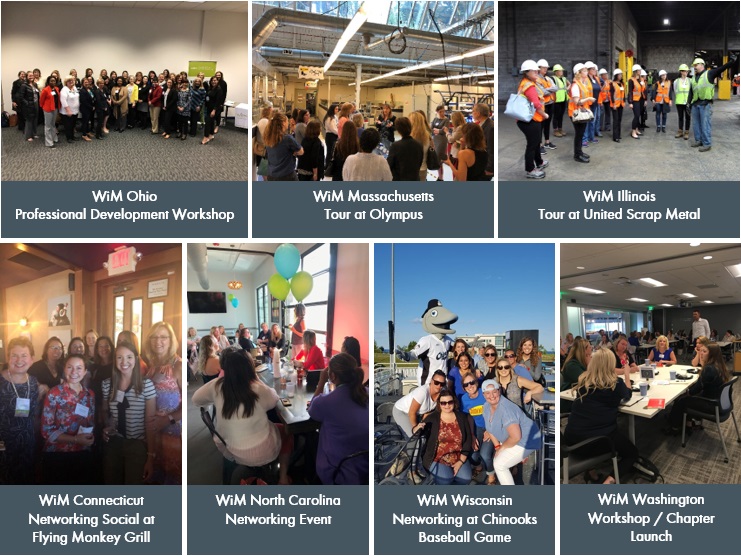 How do I get involved?
To learn more about each unique Chapter, we encourage you to visit their individual webpages. Here, you'll find information about their upcoming events and Chapter Officers serving on the Board of Directors. Contact information for these individuals is only available to WiM members in our membership directory. If you'd like to get in touch with a Chapter Leader, please contact Audrey Imes at aimes@womeninmfg.org
Note: WiM membership is held nationally, however WiM members may choose to affiliate themselves with a Chapter in their member profiles. You can check out Chapter affiliates by viewing the "Member List" located on each Chapter page.
Affiliate yourself with your WiM Chapter!
WiM members may now self-identify which WiM Chapter they are affiliated with!
1. Log into your member profile. Once logged in, select/click on your name at the top of the page to view your Member Compass:

---
2. Once in your Member Compass, navigate to your Profile (on the right):

---
3. Select your Chapter (or edit your profile as you'd like):

---
Interested in starting a WiM Chapter in your state or region? Contact Audrey at aimes@womeninmfg.org to submit an interest form!