WiM Washington
The Women in Manufacturing (WiM) Washington Chapter has an active base of members throughout the state! Join us for high quality Professional Development Programs and Industry Networking Opportunities!

chapter leaders chapter Events affiliated Members Non-Solicitation Policy
---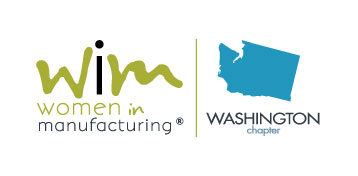 The Women in Manufacturing (WiM) Washington Chapter has an active base of members in and around Washington. Chapters provide excellent opportunities for you to expand your local network, build valuable business relationships, and enjoy industry-related programming. For more information about getting involved with this chapter contact chapters@womeninmfg.org.
Follow WiM Washington
Join our chapter as we get back to the Fundamentals of Manufacturing! Over the next year we will host workshops geared for our manufacturing community to gain deep insights into the major functional groups within a manufacturing company through experts that do the day to day jobs and tours of local manufacturing facilities. The workshop series will culminate with a FUNdamentals workbook guide to help you understand how different functional groups work together and highlight the plethora of career opportunities within this industry.
WiM WA MFG Fundamental Recordings are now Available in the WiM WA Virtual Library!
Recordings Available:
Quality & Inventory @ Genie
Information Technology @ Amazon HQ
Sales & Marketing @ The BoxMaker
Operations @ Fluke
Leadership & Innovation @ Sekisui Aerospace
Supply Chain Management @ Port of Everett
WIM WA Intrapreneurship Series Digital Workbook
Have you ever had an idea that would help you at work, help your team or the business and didn't know quite where to start? WIM Washington hosted a series of Educational Workshops that tackled just that. Whether you were there with us in person and need a refresher, missed an event due to your crazy schedule or joined us as a new member afterwards, we wanted to share all the good nuggets from our series with you. This workbook is a compilation of summaries, resources, tools, worksheets and takeaways from 7 of our Intrapreneurship Educational Workshops that can be used as guidance to help anyone with their own idea. Navigate through each topic on the Intrapreneurship Journey to take your idea, whether it's big or small, and bring it to life.
CLICK HERE to purchase the full digital workbook
We want your input!
Interested in seeing a company in Washington or want to host our WiM members at your location? Is there a topic you're interested in discussing at one of our online WIM WA coffee chats or having an expert talk at a workshop? Want to get more involved by helping or joining one of our WIM WA Committees? Reach out to us and let us know! We would love your feedback and input to incorporate as we lock in our 2023 events! Email us at WomeninMFGWA@gmail.com with your ideas.
Past Events from WiM Washington
10/25/2023: October Welcome Chat - Virtual
10/18/2023: PD Workshop - MFG FUNdamentals - Design & MFG Engineering
09/20/2023: Spokane Workshop - MFG FUNdamentals - Quality & MFG Engineering
08/11/2023: Overnight in Yakima
08/01/2023: Summit Prep Chat - Virtual
07/12/2023: Working Parents Chat - Virtual
06/21/2023: June Lunch Chat - Virtual
06/14/2023: Summer Kickoff Happy Hour - Virtual
06/12/2023: Spokane Valley Launch
06/08/2023: PD Workshop - MFG FUNdamentals - Quality & Inventory
05/17/2023: Working Moms May Chat - Virtual
05/03/2023: May Lunch Chat - Virtual
04/26/2023: PD Workshop - MFG FUNdamentals - Information Technology
04/14/2023: April Member Welcome Chat - Virtual
03/16/2023: March Lunch Chat - Virtual
03/01/2023: Working Moms Chat - Virtual
02/16/2023: PD Workshop - MFG FUNdamentals - Sales & Marketing
02/08/2023: Feb Morning Chat - Virtual
01/25/2023: Jan Morning Chat - Virtual
01/13/2023: Welcome Chat - Virtual
12/15/2022: Social - Holiday Blacksmithing Experience
11/30/2022: WiM Chat - Linked
08/21/2022: Social - Rainier's Base Game - Family Event
08/08/2022: WiM Chat - All About Summit - Virtual
07/07/2022: PD Workshop - MFG FUNdamentals - Operations
06/09/2022: PD Workshop - MFG FUNdamentals - Leadership & Innovation
04/27/2022: PD Workshop - MFG FUNdamentals - Supply Chain
12/07/2021: Social - Theo Chocolate Factory Tour
11/18/2021: PD Workshop - Our Intrapreneurship Journey
08/25/2021: Social - Sip & Paint + Industry Networking Reception
07/29/2021: PD Workshop - Leading Through Influence
05/26/2021: WiM & Wine: Wine Box Social - Virtual
04/29/2021: Professional Development Workshop - S.M.A.R.T Goal Setting
01/21/2021: Professional Development Workshop - Project Management 101
12/17/2020: Social - Reindeer Games - Virtual
10/28/2020: INTRAPRENEURSHIP Virtual Manufacturing Conference
10/08/2020: WiM & Wine: Networking Power Hour - Virtual
08/27/2020: Professional Development Workshop - Leveraging LinkedIn Workshop
06/18/2020: Professional Development Workshop - Networking with Ease Workshop
04/29/2020: Wine with Us: New Norms & New Habits for Success - Virtual
04/22/2020: Wine with Us: Financial & Accounting Focus - Virtual
04/15/2020: Wine with Us: Working from Home & Managing it All - Virtual
04/08/2020: Wine with Us: HR Focus - Virtual
04/01/2020: Wine with Us: COVID 19 & Your Company - Virtual
01/16/2020: Professional Development Workshop - Leadership Panel & Workshop
11/23/2019: Community - TEDxSeattle Experience
10/10/2019: Professional Development Workshop - The Art of Negotiation Workshop
08/28/2019: Social - We're Taking Off! Boeing Factory Tour & Industry Networking Event with AFA
06/25/2019: Corporate Storytelling Workshop & Chapter Launch Event
---
WiM Washington Chapter Sponsors