#WiMHearHerStory with Rachel Jasper, Production Supervisor, John Deere
Date posted
August 21, 2019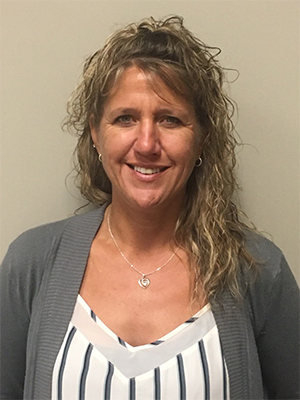 Rachel Jasper, Production Supervisor, John Deere
#WiMHearHerStory | @WomeninMFG

At Women in Manufacturing, we are committed to supporting women in the manufacturing sector. We firmly believe that mentorship and community-building will help attract and retain women in manufacturing. As part of our mission, we feature on our blog the stories of women we admire who are currently working in manufacturing. The following is the latest installment of our "Hear Her Story" series.
Please tell our readers a little bit about your job and what your work looks like every day.
I'm currently a production supervisor for the forestry division at John Deere Dubuque works. I supervise 40 production employees and ensure that we get the number of units built for the week to meet all of our goals. Each day, I do DTR's (timecards), the operator's voice at meetings, and make sure the production lines are running effectively and efficiently.
How did you arrive at your current position? What attracted you to a career in manufacturing?
I have been an employee at John Deere for 13 years now. When I started as an administrative assistant, I did think that I would become a production supervisor at some point. I held a few different roles at Deere, starting with the admin role, and then I went back to school to get my BA to be able to advance in my career. After graduation, I moved into a new product coordinator role. That role consisted of me setting up machines and parts to allow the customer and dealers to order.



I decided to go back to school, but this time, to get my MBA in operation management. Then I job shadowed a production supervisor to see if this would be an interest of mine, and after spending a full week on the shop floor and covering the role for a day, I was very interested and knew I had to pursue my interest.

A couple of months later there was an opening for a production supervisor in the forestry division. I applied, went through the interview process, and got offered the job. It's been a little over two years now and every day is a challenge, but I love every minute of it.
At WiM, much of our work is dedicated to refuting outdated stereotypes about the manufacturing sector: stereotypes like the workplaces are dirty and dangerous and that the field and skills required are a better fit for men. Have you encountered stereotypes like these in your education or career and how did you overcome them?
I have not encountered stereotypes in being a woman in an operations role. Deere is very diverse and inclusive, and we strive on this. They encourage women to become more involved in, and pursue, operation and manufacturing roles.
Research shows that women, especially women in STEM fields, do better if they have a mentor. Has mentorship played any role in your career?
I did have a mentor who helped me with job shadowing, enhancing my interview skills, and updating my resume.
One of the key findings in WiM's survey is that there is significant overlap between what young women want in careers and the attributes of careers in manufacturing today. But the survey also found that, too often, young women are not aware of the opportunities available in manufacturing. What do you think can be done to spread the word to women about career options in modern manufacturing?
I think there is a lot being done currently with WiM and we also have an internal WIO (women in operation) group that is specific to John Deere.



My only suggestion would be to get out and speak with high school and middle school students about manufacturing. At Deere, we have two different programs that happen twice a year. One is called High School Girl Industry Day and this is a day when high school students visit us and participate in speed mentoring, a Lego challenge, virtual welding, and line tours. The second program we offer is Girls in Engineering Day which has a similar layout, but it's more engineering focused.
Our survey also found that the majority of women in manufacturing today would recommend the sector to young women considering career options. Would you recommend a career in manufacturing? And, if so, why?

Yes, I would recommend a career in manufacturing because it's a great career path that focuses on critical thinking, strong communication, attention to detail, and helps further an interest in and aptitude for technology. I have two daughters that work in the operation area with me and they love it. We all enjoy feeling accomplished when we leave our shift for the day.
Why did you decide to join Women in Manufacturing? How do you personally find value in WiM membership?
I'm currently a part of our WIO group and when I received notification about WiM, I thought it would be a great opportunity to broaden my professional network. It also helps me to understand what opportunities are out there in manufacturing as well as the programs available to help me grow in my career.
To learn more about John Deere, please visit their website here.