#WiMHearHerStory with Cindy Farrer, VP of Global Supply Management, Allegion
Date posted
August 21, 2019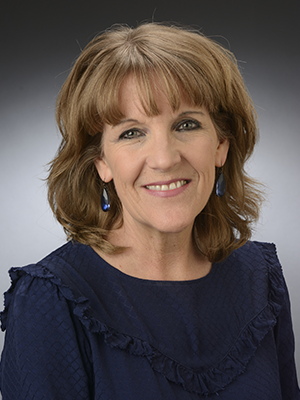 Cindy Farrer, VP of Global Supply Management, Allegion
#WiMHearHerStory | @WomeninMFG

At Women in Manufacturing, we are committed to supporting women in the manufacturing sector. We firmly believe that mentorship and community-building will help attract and retain women in manufacturing. As part of our mission, we feature on our blog the stories of women we admire who are currently working in manufacturing. The following is the latest installment of our "Hear Her Story" series.
Please tell our readers a little bit about your job and what your work looks like every day.
In my role as vice president of global supply management for Allegion, my team and I have responsibility for our global supply base, which consists of more than 2,500 direct material suppliers and indirect suppliers. We not only manage the commercial relationships but also supplier performance, development, and risk management. Our supply base is extremely critical to Allegion, so we are continually focused on strengthening our supplier network and relationships.

With a global staff and supply base, I spend over half of my days on the road, either at our supplier sites, at Allegion plant sites, or meeting with my global team or business partners. As a dynamic and growing company, I get involved in many activities related to supporting growth or cost reduction initiatives that are vital to our business, as well as developing and executing our strategic supply base plan, considering the long range initiatives of Allegion as well as the dynamics of the supply base.
How did you arrive at your current position? What attracted you to a career in manufacturing?
At the time I chose what to study in college I wanted a field that would challenge me as well as provide long-term career options…and most importantly, one that excited me. I ended up studying industrial engineering at Purdue. While in college I worked as a cooperative education student for General Motors in a number of manufacturing assignments and quickly gained an appreciation for the diversity and opportunity that manufacturing offers.

In my 30-year career, I have worked in a variety of manufacturing roles in production management, manufacturing engineering, quality and lean across assignments for employers like General Motors, Delphi Automotive Systems, Ingersoll Rand, and now Allegion. I spent six years working in Reynosa, Mexico, managing a four plant operation for Delphi. I have led global quality at both Delphi and Ingersoll Rand and now lead global supply management at Allegion. Prior to my current role, I led the Americas operations for Allegion, which included 12 plants. Given the criticality of the supply base to operations, my current role leading global supply management was a logical progression for me.



Gaining experience in many different functions and industries (automotive, electronics, security) along the way has served me well as my career has progressed into broader responsibility. I would offer this advice to those earlier in their career – gain experience across functions and industries along the way instead staying in a specific silo.
At WiM, much of our work is dedicated to refuting outdated stereotypes about the manufacturing sector: stereotypes like the workplaces are dirty and dangerous and that the field and skills required are a better fit for men. Have you encountered stereotypes like these in your education or career and how did you overcome them?
Early on when I went into engineering and then manufacturing, I would say I encountered this stereotype. When I started working at General Motors Delco Electronics there were many women who worked on the production lines, but only a handful of women in the engineering, skilled trades, or management roles. I was a bit of an anomaly; there were so many instances where I was the only woman in the class, the only woman on the team or project, the only woman on the organization chart.

Over the years and with different assignments, this has improved in some cases, but women are still underrepresented in most manufacturing organizations. I believe attracting and creating more visibility for women leaders in this profession is key to changing this.



Also, I would mention, as a mother of four daughters, working in a manufacturing role AND trying to raise a young family in the 1990s and early 2000s was extremely challenging given the lack of work hour flexibility and family friendly policies. Were it not for an extremely supportive husband and also having our parents living nearby, I would not have been able to continue my career during that time. I am glad to see that today there is more flexibility in the workplace and support for new parents, but even with that, this is still a challenge for parents of young children.
Research shows that women, especially women in STEM fields, do better if they have a mentor. Has mentorship played any role in your career?
Throughout my career, I have been fortunate to have had a number of informal mentors who have been excellent advisors and coaches for me. Probably most beneficial for me was having a mentor help think through the larger career decisions I have faced – such as when I returned to school full time to get my Master's Degree in Engineering, when I moved young my family to the Rio Grande Valley for a job in Mexico, and when I left the automotive industry after 20+ years to start over in a new company and industry. I have also gained equal benefit in serving as a mentor.

For me, probably even more important than mentorship is my good fortune in having worked for many outstanding leaders and role models who challenged me to stretch. I've also enjoyed working for companies with strong values that provide development and growth opportunities for both men and women alike.
One of the key findings in WiM's survey is that there is significant overlap between what young women want in careers and the attributes of careers in manufacturing today. But the survey also found that, too often, young women are not aware of the opportunities available in manufacturing. What do you think can be done to spread the word to women about career options in modern manufacturing?
I think organizations such as WiM, as well as educational institutions and manufacturing companies, can target more outreach programs to both boys and girls, men and women, about the opportunities in manufacturing. The skills gap in manufacturing is real; we are all competing for talent. By virtue of necessity, we need to be proactive in attracting the next generation of manufacturing employees. At Allegion, we have consciously expanded our efforts in this area over the last years through initiatives such as Manufacturing Day, internship programs, apprentice programs, and a variety of community outreach activities.
Our survey also found that the majority of women in manufacturing today would recommend the sector to young women considering career options. Would you recommend a career in manufacturing? And, if so, why?

Absolutely! In my own 30 years in manufacturing, I have had so many interesting and rich experiences and continue to learn each day. Manufacturing typically is at the forefront of technology and nothing is constant. Manufacturing roles often provide higher pay and benefits than comparable industries, and based on all indications, will continue to be in high demand for the foreseeable future.
Why did you decide to join Women in Manufacturing? How do you personally find value in WiM membership?
Allegion has a Corporate membership in WiM, as we recognize the value this membership can provide to our women employees in manufacturing. The networking and events as well as other resources provide an avenue to learn from peers in other industries who may have similar challenges or who may have different perspectives on a specific topic. With a growing number of women in manufacturing roles (and a need for even more representation), WiM provides a much needed forum for connecting.
To learn more about Allegion, please visit their website here.