WiM Members on the Move | May 2021
WiM Members On the Move
Celebrating individual advancements and achievements.
Beck Named President of Smaller Manufacturers Association of Connecticut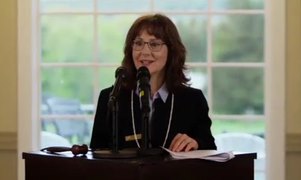 WiM member Sabrina (Altschuler) Beck, vice president and co-owner of Altek Electronics, Torrington, CT, was inducted as the 65th president of the Smaller Manufacturers Association of Connecticut (SMA) during its annual meeting on May 10, becoming the fourth woman to hold this position in 71 years. Her term as president runs from May 2021 through May 2023.
The daughter of Altek's founder, Sabrina's experience being part of a second-generation family-owned smaller manufacturer gives her a great grasp of present and future challenges. Working with the SMA board of directors, Sabrina will represent the association's members in support of SMA's vision "to make Connecticut a great place to do business for smaller manufacturers."
Sabrina and Altek have supported local technical and regular high schools, middle schools and community colleges with shared work programs, soldering classes, tours of Altek's facility, student shadow days, participation in the STEAM Carnival, and other collaborations. Sabrina will work with SMA's executive director and board members to promote workforce development, share best business practices, and represent manufacturers' interests at the legislature, among other initiatives.
Sabrina holds a B.S. in Business Management from Quinnipiac University and began her career in the financial services industry. She joined Altek in 1998, and immediately began the process of learning the family business. Sabrina earned the IPC-610 and 620 certifications and a Six Sigma Green Belt, participated in CFM training, and has taken business classes in UConn's MBA program.
WiM congratulates Sabrina on her appointment as president of SMA!