Sarah Richards, President and CEO at Jones Metal, Inc.
Date posted
January 6, 2015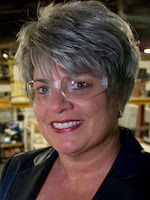 Sarah Richards, President and CEO at Jones Metal, Inc.
#WiMHearHerStory | @WomeninMFG

At Women in Manufacturing, we are committed to supporting women in the manufacturing sector. We firmly believe that mentorship and community-building will help attract and retain women in manufacturing. As part of our mission, we feature on our blog the stories of women we admire who are currently working in manufacturing. The following is the latest installment of our "Hear Her Story" series.
Please tell our readers a little bit about your job and what your work looks like every day.
I work very hard every day to pave a smooth road for my team and stay out of their way. From my seat, it is so easy to jump from one idea to another, but I have learned how hard that can be on my leaders. So, I research our industry and what is trending roughly 6-12 months out so I can focus on our strategy and investments. We have a meeting each week to specifically talk about hot issues, metrics and projects. I also work in sales. We did not become a real sales organization until 2014, so I am doing my best to talk about Jones Metal with anyone who may be interested in hearing about us.
In addition to Jones Metal, we have another company called Advanced Coil Technology (ACT), which is 40 miles away from Jones. As president of ACT, I work with their GM each week. This can be a challenge because ACT is smaller and a completely different industry, so I really have to shift gears. Finally, I have been dubbed by my family and team the "face of the franchise." I am very involved in our community and other industry organizations. This can make for a hectic schedule, but it is an honor that is hard to describe. Honestly, I don't sleep much at all because it's hard to shut down the business mind, but I truly love the challenges.
How did you arrive at your current position? What attracted you to a career in manufacturing?
We have quite a family legacy in manufacturing. I grew up listening to my family members talk about it all the time. My maternal grandparents started companies that still employ over 1000 people in the Mankato/North Mankato communities, 90 years after the first one really got started.
I truly wanted to be a part of this legacy when I graduated from college, but my father was convinced that manufacturing was on a downward spiral in the 1980's and he sent me to find my own way. I stumbled around in education but found that it wasn't for me. While searching for my next move, I started working part-time at Keller Golf Course in St. Paul. I loved it and really enjoyed the golf business, which was natural for me since I had been playing golf for most of my life. I decided to pursue my PGA Class-A Golf Professional status while teaching and managing a local St. Paul ski school in the winter. I busted it out, working 70 hours a week in the summer and 50+ in the winter. Eventually, I earned a general manager and head professional position at Cannon Golf Club in MN.
After a 25-year career in golf, I was restless and looking for a change. My father had passed away and my mother was scrambling to understand the ins and outs of Jones Metal, a company that her mother founded in 1942. I sensed her struggle and asked her if she needed help. To my surprise, she said "yes." I joined the family business in 2008. My sister (Jessica Richards-Palmquist), brother (David Richards) and I purchased the business from our mom in 2011. I took over as CEO in 2012 and here we are.
At WiM, much of our work is dedicated to refuting outdated stereotypes about the manufacturing sector: stereotypes like the workplaces are dirty and dangerous and that the field and skills required are a better fit for men. Have you encountered stereotypes like these in your education or career and how did you overcome them?
Oh boy, I think the golf business was even more gender biased! In the 1990's, out of 300 head pros in MN, I was one of only three women included. Sometimes I regret the hard shell I developed over the years, which goes all the way back to when I tried out for little league baseball. Title 9 had just passed; I bullied my way onto the field and never looked back. I can't explain why I'm wired that way, perhaps because my parents supported whatever I wanted to do or it's just the grit I was born with.
Maybe it's my thirst for an adrenaline rush, willingness to take risks and or my never-wavering pride in projecting my outward image of total self-confidence. Either way, sometimes over the years I have missed comments and behaviors that were derogatory towards women and girls pursuing their dreams. I had let too much of that sort of thing roll off my back that I simply wasn't paying attention anymore. A friend of mine who holds a non-traditional position in education recently reminded me that I need to take a more responsible role in bringing women forward. After I thought about it for a few days, I agree.
It's not that I have ignored the issue, but more that I didn't keep it front and center. I currently do a lot with helping develop my fellow women at Jones Metal, being a part of the conversation in my community and working closely with our local YWCA empowering women and girls. I have a long way to go and much to learn about walking in my peers' shoes, but it is a very worthy cause.
Research shows that women, especially women in STEM fields, do better if they have a mentor. Has mentorship played any role in your career?
I have always had a mentor. I love to coach and I love to be coached. My father was the first to observe this when I was very young. He couldn't understand why I was willing to put myself through intense drills on the tennis court or why I sought out ski instruction, different coaches with different opinions and tips. I believe you have to dig through a mountain of boulders to really build your own philosophy and values to be your best. Bits and pieces can lead to greatness and I will continue to dig.
There is a part of me that believes girls and women have to want to succeed, have to have some grit and motivation to make it. Another part of me believes I need to show them a path, pull them towards the opportunities, coach and promote them. I have high expectations, but I also recognize that I have had a lot of help along the way.
One of the key findings in WiM's survey is that there is significant overlap between what young women want in careers and the attributes of careers in manufacturing today. But the survey also found that, too often, young women are not aware of the opportunities available in manufacturing. What do you think can be done to spread the word to women about career options in modern manufacturing?
Women who are involved in manufacturing need to promote careers in manufacturing to everyone. Manufacturing still has a long comeback ahead after a long-term, subconscious marketing campaign in our country turning people away. We have to get into kids' lives as early as possible. Our local Children's Museum is a great example here in Mankato. Be the face of American manufacturing, get out there and tell anyone who will listen about the great opportunities. You can work in accounting, sales, engineering or you can be a front-line maker!
Our survey also found that the majority of women in manufacturing today would recommend the sector to young women considering career options. Would you recommend a career in manufacturing? And, if so, why?
I am passionate about manufacturing and humbled by the opportunity to be a third-generation owner of a company that has always been woman owned. Clearly, I have so much more work to do promoting this. I want to see the next game-changing innovations in manufacturing come from the minds and hands of women.