Ashley Martof, Workforce and Educational Outreach Intern at America Makes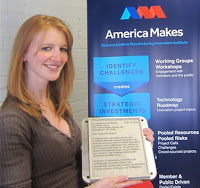 Ashley Martof, Workforce & Educational Outreach Intern, America Makes
#WiMHearHerStory | @WomeninMFG

At Women in Manufacturing, we are committed to supporting women in the manufacturing sector. We firmly believe that mentorship and community-building will help attract and retain women in manufacturing. As part of our mission, we feature on our blog the stories of women we admire who are currently working in manufacturing. The following is the latest installment of our "Hear Her Story" series.
"When I was in high school, I had no idea what I wanted to be," remembers Ashley Martof. "I loved animals," she says, "so I was thinking about studying biology and maybe becoming a veterinarian."
It wasn't until her sophomore year of high school that a teacher discovered her aptitude for math suggested a career in engineering.
"I did always like to build things when I was little," Ashley says, "but I never connected that interest with engineering. I am fortunate that my teacher put the two together and made the suggestion."
So when she entered college in 2011 at Youngstown State University she focused on industrial engineering. Two internships, first with Rezner in Meser, PA and then with Altronics in X, XX introduced Ashley to life on the factory floor.
"It was a great introduction to manufacturing," she says. "I enjoyed seeing how final products came together."
But it was an a tour of America Makes in the Spring of 2013 that solidified her interest in the manufacturing sector. America Makes is the first institute in the National Network of Manufacturing Innovation. And it was on that visit that Ashley was first introduced to additive manufacturing and 3D printing.
"The technology just really blew my mind," she recalls.
Now an intern with the program, Ashley helps the organization by developing educational content. One of the first projects she completed was creating an additive manufacturing curriculum for teachers. She has also organized a 3D printing camp for young students. Last summer, she the lead the children through the basics of 3D design and even helped them print their own products. Her work earned her The STEM Intern of the Year award from Youngstown State University.
She hopes the programs she's worked on will inspire younger students to find their own passion for manufacturing.
"It's the new technology," she says, "that really grabbed me. The ability to make complex and custom products has pulled me in and now I never want to leave manufacturing."
Ashley created a very special custom project as part of the first-ever White House Maker Faire in 2014 when she designed and printed a letter for President Obama. "It's harder to file, by the way, but it's cooler" said the president about the letter which was 3D printed on metal.
On being a woman in manufacturing today, Ashley notes that she has not faced much opposition.
"Sometimes, in traditional manufacturing," she says, "women may be looked down on for having limited physical strength." But she considers that rapidly advancing technology is limiting the need for physical power anyway. Modern manufacturing depends much more on mental power.
"More women in manufacturing would be great," she says. "We could fight stereotypes about women and about manufacturing with strength in numbers."