Aneesa Muthana, President at Pioneer Service Inc.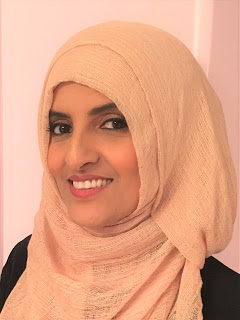 Aneesa Muthana, President at Pioneer Service Inc.
#WiMHearHerStory | @WomeninMFG

At Women in Manufacturing, we are committed to supporting women in the manufacturing sector. We firmly believe that mentorship and community-building will help attract and retain women in manufacturing. As part of our mission, we feature on our blog the stories of women we admire who are currently working in manufacturing. The following is the latest installment of our "Hear Her Story" series.
Please tell our readers a little bit about your job and what your work looks like every day.
As the president and owner of a manufacturing company, every day I get to help people succeed. I spend my time building relationships with my team, listening to their concerns and trying to find the best way to give them the tools and resources they need. I'm frequently in meetings getting updates and providing direction as needed on a wide range of subjects from production to quality, sales and much more. When there are a few quiet moments, I read emails and review reports that help me understand how my business is doing and highlight areas that could use improvements. On the shop floor, I listen to concerns and support the decisions of my senior management team. My conversations range from very technical, such as discussing the types of tooling and cycle times that could go into a part we're quoting, to providing general direction, discussing the values that are central to us as a company.
I see my role as a bridge builder, filling in gaps and helping people to work better as a team. I'm always trying to balance the immediate demands with the proactive opportunities and relationships that will help my people and Pioneer Service. I enjoy mentoring women both inside and outside the company and frequently am responding to ladies that are reaching out to me for advice. I'm in regular communication with various associations helping with both practical needs as well as connecting people with each other for advice and expertise. I love what I do and feel fulfilled each day when I see people taking advantage of the resources and bettering themselves. It's my goal to develop each team member to their fullest potential which will make us a better company.
How did you arrive at your current position? What attracted you to a career in manufacturing?
I was only 11 years old when my parents started a bar-grinding business. At first it was only my brothers, parents and I working at the company. I was anxious to contribute as much as I could and was not satisfied with staying in the safety of the office. I pestered my dad and wanted to learn how to operate equipment. When the phone would ring, I would run back to the office, jumping over bundles of steel, in order to answer it. I thought it was a lot of fun to actually make things and was thrilled when my dad made me responsible for my own centerless grinder. As I grew, I assumed more responsibilities by asking questions and just doing what needed to be done. Soon I was not only running equipment, but paying bills, talking with customers and vendors and checking the status on production jobs.
My golden opportunity came when I was a recently divorced mother, only 23 years old, itching to do something big with my life. I wanted to be more than just the "girl" in the shop that everyone depended on. I knew I had to leave my parents' business to truly tap my potential. My uncle had bought a small machining company and he needed help with his new venture. He offered for me to come work for him, but I wanted more. I wanted a chance to prove myself, so I asked him for a partnership as well as the authority to run the company as the president. He agreed to give me that chance, so I took the helm of Pioneer Service.
At WiM, much of our work is dedicated to refuting outdated stereotypes about the manufacturing sector: stereotypes like the workplaces are dirty and dangerous and that the field and skills required are a better fit for men. Have you encountered stereotypes like these in your education or career and how did you overcome them?
As a young lady in a shop I frequently heard comments and saw the faces of men who questioned my presence in their environment. I was internally motivated to succeed and would not let their looks and actions deter me from doing what I loved. It's not that I didn't notice their judgements of my choice to work with my hands (and eventually run a company) in this male-dominated field, it's just that I chose not to be a victim. Both then and today, I persevere and do what I know is right for me and my company and let the results speak for themselves.
Research shows that women, especially women in STEM fields, do better if they have a mentor. Has mentorship played any role in your career?
I've been most inspired by my mother, who has overcome great adversity to succeed and become prosperous in manufacturing. My mother came to the US 48 years ago. When she first got here, she took a job in a machine shop where no one spoke her language. Never held a pen, let alone got an education - spoke no English yet she was able to help my father support their family. Her boss was so impressed with her work ethic, she was promoted and received raises without her ever asking. She took the bus and took care of my sick father, yet every day we had a home-cooked meal. For me, she is THE "Woman in Manufacturing." Today, as an owner of the manufacturing company she helped found with my father, she reaps the benefits of her hard work. It takes resilience and tenacity to push through barriers. She inspired me to work hard and believe that I can succeed, no matter what the odds.
One of the key findings in WiM's survey is that there is significant overlap between what young women want in careers and the attributes of careers in manufacturing today. But the survey also found that, too often, young women are not aware of the opportunities available in manufacturing. What do you think can be done to spread the word to women about career options in modern manufacturing?
Awareness of opportunities in manufacturing is built one conversation, one presentation, one publication at time. The most powerful influencers take the time to hear what an individual young woman is looking for and share their own stories with passion. Because there's way too much to communicate in sound-bites, I think that the desire to pursue a career in manufacturing has to be "caught" more than "taught."
Our survey also found that the majority of women in manufacturing today would recommend the sector to young women considering career options. Would you recommend a career in manufacturing? And, if so, why?
I absolutely would recommend manufacturing to women and I try to hire women in all roles in my company when given the opportunity. We need the diversity of thought and passion for a healthy workplace. I want to have a work place that people love to come to every day. In real-life men and women interact with each other side-by-side and balance each other out. Why shouldn't that be the norm at a manufacturing company as well?
Why did you decide to join Women in Manufacturing? How do you personally find value in WiM membership?
WiM gives me an opportunity to meet other women from all walks of life who have chosen to make manufacturing their career path. Hearing their stories inspires me. I never know, but the next woman I meet at a WiM event may be my next business partner, vendor, mentor, mentee or employee. WiM provides that opportunity for networking so we can share our wealth of expertise, experiences and knowledge with one another.