Amanda Reel, Welder at TRUMPF
Date posted
December 7, 2017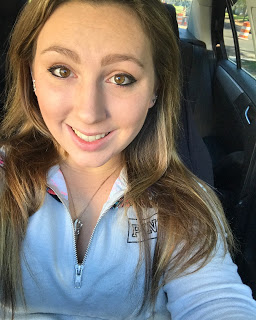 Amanda Reel, Welder at TRUMPF
#WiMHearHerStory | @WomeninMFG

At Women in Manufacturing, we are committed to supporting women in the manufacturing sector. We firmly believe that mentorship and community-building will help attract and retain women in manufacturing. As part of our mission, we feature on our blog the stories of women we admire who are currently working in manufacturing. The following is the latest installment of our "Hear Her Story" series.
Please tell our readers a little bit about your job and what your work looks like every day.
I am a welder at TRUMPF, but I also handle a number of other tasks in the Sheet Metal Department. Some days I weld, some days I cover drill press and other days I run the laser cutting machines. I also cover for my supervisor or lead man when they are out. Every day I come into work and do a different job, so it's always interesting. When I am welding, I have to read prints and fabricate parts, which means I have to be able to read and understand blueprints. Then I assemble the parts and weld them together. My department makes laser cutting machines for TRUMPF, our most popular product.
How did you arrive at your current position? What attracted you to a career in manufacturing?
When I was just about to turn 18, TRUMPF called my high school, Howell Cheney Technical High School, and asked if they had any welders with a good welding skill set and my teacher asked me if I would be interested in an interview. I took the opportunity in a heartbeat. Within one week they contacted me and set up my initial interview. The interviewer asked me to read a blueprint and tell them everything I knew about every type of welding. I was also asked to outline my skills. I would say it went very well. I was immediately offered an in-the-field interview, to demonstrate my physical welding skills. In the field interview, I welded MIG (gas metal arc welding, or metal inert gas welding) and TIG (gas tungsten arc welding, or tungsten inert gas welding) both vertical and flat. They told me that was all they needed to see and that I would be contacted soon with my start date. I have been a welder for TRUMPF ever since.
When I was 14, I chose welding as the trade I would study through high school. My junior year I decided to make welding my career because it's not often you get to turn your passion into a career. Also, I like the challenge of manufacturing—something about making things from scratch entices me.
At WiM, much of our work is dedicated to refuting outdated stereotypes about the manufacturing sector: stereotypes like the workplaces are dirty and dangerous and that the field and skills required are a better fit for men. Have you encountered stereotypes like these in your education or career and how did you overcome them?
My whole career has been full of encounters with these stereotypes. One comment I hear far too often, when someone asks me what I do and I explain to them that I am a welder, is "Wow, I've never met a pretty welder…actually I've never met a female welder!" I am TRUMPF's first woman welder, but I will not be the last! It is not true that women can't be welders. Unfortunately, many are steered away by the awful stereotypes that exist about welding such as it being a man's job, a dirty job, or a hard job. It is also untrue that welding is only performed in a very dirty environment. That is not the case at my job and at many other manufacturing companies. In fact, many facilities are cleaner than you can ever imagine! Most of the ones I've seen look like picture-perfect factories.
Research shows that women, especially women in STEM fields, do better if they have a mentor. Has mentorship played any role in your career?
Mentorship has definitely played a huge rolle in my career. I would not be where I am today without the help of my mentors. My two welding teachers, Kathy McGirr and Bob Cullen, in were my first mentors and they helped me to learn almost everything I know about welding. My mentor at my current position is our lead man, Dave Reynolds. Dave has helped me learn new skills, like repair work and time management, through hands-on training. He has also demonstrated great work ethic, leadership skills and brainstorming to make even the most difficult problem seem easy. I try to emulate these skills as I grow in my career.
One of the key findings in WiM's survey is that there is significant overlap between what young women want in careers and the attributes of careers in manufacturing today. But the survey also found that, too often, young women are not aware of the opportunities available in manufacturing. What do you think can be done to spread the word to women about career options in modern manufacturing?
Certainly organizations (like WiM) that make it their mission to support women in manufacturing go a long way towards raising awareness about manufacturing. Local WiM chapters have a strong impact here as well. For example, the WiM Connecticut chapter was established just over a year ago and has really created a buzz in the community. Promoting manufacturing as a career to middle and high school students – and not just the boys – is crucial. Teachers, guidance counselors and parents are instrumental in communicating the opportunities manufacturing presents. Many kids, especially girls, don't even know these good, high-paying, rewarding jobs exist. I'm sure if young women knew what an interesting, well paying career they could have in manufacturing they would give it a closer look.
Our survey also found that the majority of women in manufacturing today would recommend the sector to young women considering career options. Would you recommend a career in manufacturing? And, if so, why?
I would definitely recommend that young women choose a career in manufacturing! There are so many opportunities out there. You can have any kind of job you want: machine operator, engineer, sales and marketing, finance, even CEO. There is literally something for everyone in the field of manufacturing—, the possibilities are endless!
Why did you decide to join Women in Manufacturing? How do you personally find value in WiM membership?
I decided to join Women in Manufacturing because I believe it will expose me to the wide variety of opportunities that exist in manufacturing. In addition, it is a very inspiring group to be a part of! It gives me the opportunity to see first-hand that I am not the only woman in manufacturing, even though it may feel like it sometimes. And, WiM is here to support its members and help them grow. I also want to be part of a group that has a positive influence on the way the world views women in manufacturing!