Carla Enzinger, Human Resource Manager at Batesville Tool & Die, Inc. (BTD)
Date posted
December 28, 2017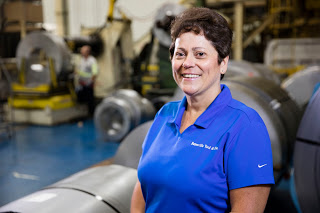 Carla Enzinger, Human Resource Manager at Batesville Tool & Die, Inc. (BTD)
#WiMHearHerStory | @WomeninMFG

At Women in Manufacturing, we are committed to supporting women in the manufacturing sector. We firmly believe that mentorship and community-building will help attract and retain women in manufacturing. As part of our mission, we feature on our blog the stories of women we admire who are currently working in manufacturing. The following is the latest installment of our "Hear Her Story" series.
Please tell our readers a little bit about your job and what your work looks like every day.
My current position is the human resource manager at Batesville Tool & Die, Inc. (BTD). I have the privilege to assist our employees in many avenues. My activities include: implementation and administration of our benefit plans, employee relations, manage on-site health clinic, community involvement/boards, department budget, planning company events and activities, compliance, overseeing and supporting company training, the hiring and terminations, evaluation process and payroll, etc.
How did you arrive at your current position? What attracted you to a career in manufacturing?
I needed a change from the accounting field. My sister, who at the time was already employed by BTD, recommended I apply for the Human Resource Manager position at BTD. My sister was having a very successful career in manufacturing at BTD, starting in entry-level accounting and moving up, eventually becoming VP of Finance. Also, my father was in manufacturing so this was what I grew up knowing. I was not a natural "people person" and when accepting this position that was my largest fear. I had a great boss, Mary, who worked with me and coached me through many "firsts" in my life. She took a risk with hiring me, (no HR experience) and because of hard work, dedication and great leadership from the company it has turned into a successful career for me. BTD, through the Fledderman family, have instilled within the company and its employees a family atmosphere. This caring, personal touch that I've had the privilege to partake in is an added attraction to manufacturing and my desire to work at BTD. I have been in this position for 27 years and have a strong desire to help others. My current position not only allows me to help our employees, it allows me to work within our community, region and state to help others which fulfills my dream of giving back.
At WiM, much of our work is dedicated to refuting outdated stereotypes about the manufacturing sector: stereotypes like the workplaces are dirty and dangerous and that the field and skills required are a better fit for men. Have you encountered stereotypes like these in your education or career and how did you overcome them?
This is a constant issue and remains a work in progress. For me personally, I had a great male mentor who pushed me to stand up for myself against the stereotyping. He was quick to ask me my opinion, never leaving me out where others might have. He reminded me to grow by thinking of both sides of every situation, to think big and to speak up even when looked over by others. Having the complete opposite opinion at the table was a challenge he instilled in me to help me grow my knowledge and experience which in turn, helps make the most beneficial decisions. This mentor knew that it took all sorts of people to make a business a true success and that included those with different thinking patterns, values and personalities.
Research shows that women, especially women in STEM fields, do better if they have a mentor. Has mentorship played any role in your career?
Yes it has. As I entered the area of manufacturing, the president of BTD was Mary Stock. Mary helped me greatly get acclimated to manufacturing and was patient during the transition. She is the one I mentioned above that introduced a lot of "firsts" and helped to push me through my uncomfortable zones. She had so much background in finance and understanding of manufacturing that she transferred this to whomever wanted it. Mary was my first true contact who had many travels and she opened up the world outside of Indiana to me which enlarged my ability to dream big. Mary has since retired and now I connect with friends through various business associations to help keep me in check and seek advice. PMA (Precision Metalforming Association) and WiM are two of the great associations that provide that opportunity. The networking and support is outstanding and I am so ever grateful to be a part of these organizations.
One of the key findings in WiM's survey is that there is significant overlap between what young women want in careers and the attributes of careers in manufacturing today. But the survey also found that, too often, young women are not aware of the opportunities available in manufacturing. What do you think can be done to spread the word to women about career options in modern manufacturing?
BTD has started to work with the local schools on this exact topic. We have sponsored Teacher Externships which has opened the eyes of those who are teaching and preparing our young women for the workforce. BTD participates in Fearless Female which is a career awareness fair for females to explore "non-traditional" careers. Our company is also hoping to get into the lower middle school class rooms to talk to students about these great career opportunities. Our community business partners sponsor a manufacturing camp and we are working on ideas to recruit more females to this camp to include a "female only" manufacturing camp. On my wish list for the very near future, I would like to see a mentoring program developed between our community business partners and schools on this particular topic. One of the keys is getting to the parents and our community is tossing ideas around to change the past perception of manufacturing (dirty, dingy, dark place to work).
Our survey also found that the majority of women in manufacturing today would recommend the sector to young women considering career options. Would you recommend a career in manufacturing? And, if so, why?
Yes, manufacturing has provided for my family. It has been extremely enjoyable and fulfilling. I have reaped many professional and personal rewards working in the manufacturing world. I have been able to travel to various states as well as MX and build great working relationships with other local community businesses as well as many across the United States which in turn have become great, long-lasting friendships.
Why did you decide to join Women in Manufacturing? How do you personally find value in WiM membership?
I attended a couple of WiM's conferences. These conferences were very inspiring and motivational and built up my own personal confidence. Listening to the real stories of other women's struggles and their triumphs helped me realize there is a team working on improving the stereotype. I want to be a part of that. I enjoy the communication pieces and the on line posts. Also, being part of PMA and knowing of my personal successes with PMA, I knew WiM would be able to take that even further and help broaden my growth and development. In addition, I hope to be a role model and give support in helping others in manufacturing succeed above their expectations.