#WiMHearHerStory with Stephanie Maxwell
Date posted
February 25, 2021

#WiMHearHerStory | @WomeninMFG
At Women in Manufacturing, we are committed to supporting women in the manufacturing sector. We firmly believe that mentorship and community-building will help attract and retain women in manufacturing. As part of our mission, we feature on our blog the stories of women we admire who are currently working in manufacturing. The following is the latest installment of our "Hear Her Story" series.
---
Stephanie Maxwell
Estimating Supervisor, Orion Industries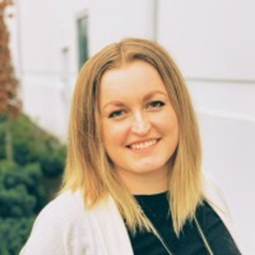 Please tell our readers a little bit about your job and what your work looks like every day!
I work for Orion Industries which is an award-winning manufacturer for precision-machined parts and sub-assemblies for aerospace and defense clients all over the world. I work as the estimating supervisor where I provide leadership to my team and oversee the estimation and planning of assemblies and parts. More than just an aerospace company, Orion is a non-profit and a leading model for social enterprise. Orion fulfills a social mission that gives people with barriers to employments meaningful jobs by training and counseling. I am very lucky to have a position that serves a meaningful mission while working with world-class technologies in manufacturing.
How did you arrive at your current position? What attracted you to a career in manufacturing?
Originally, I wanted to work in the medical field, so after high school I worked as an EMT fulltime while getting a bachelor's in Biology and Chemistry. By pure happenstance, I stumbled into a shipping and receiving job at a shop where my brother worked as a machinist while finishing school. I threw myself into all aspects of the business and was eager to learn everything there was about manufacturing. I discovered that manufacturing was my true career passion, and I never looked back at the medical field. After moving up through the company to the project manager, I decided to look beyond to aerospace manufacturing. After moving to the beautiful Pacific Northwest, I found the aerospace career I was looking for. I am very happy to be working in aerospace because the sky is endless.
At WiM, much of our work is dedicated to refuting outdated stereotypes about the manufacturing sector: stereotypes like the workplaces are dirty and dangerous and that the field and skills are better fit for men. Have you encountered stereotypes like these in your education or career and how did you overcome them?
I have never shied away from getting my hands dirty. I enjoy being in rugged nature and doing outdoor sports while sporting freshly painted nails. It is definitely a stereotype that women do not enjoy this type of work. CNC machines, additive manufacturing, and robotics are changing stereotypical dirty shops into highly organized and clean shops resembling more of an operating room than greasy old shops. The safety practices are more stringent in manufacturing than I have seen in other industries or sectors. Manufacturing requires attention to detail, organization, and critical thinking which are skills most women possess. The women I work with are highly respected for being experts in their departments.
Research shows that women, especially women in STEM fields, do better if they have a mentor. Has mentorship played any role in your career?
I have always had at least one mentor, and I believe mentorship is essential for professional development. My mentor has guided me through problems with coworkers and decision making. My current mentor gives me authentic insight on how to communicate and strategize as I grow into the aerospace sector.
There is a significant overlap between what young women want in a career and the attributes of careers in manufacturing today. But studies have also found that, too often, young women are not aware of the opportunities available in manufacturing. What do you think can be done to spread the word to women about career options in modern manufacturing?
For me, I never considered a career in manufacturing. I was never encouraged to work in manufacturing, so I am passionate about showing women that they have a place here. As times shift away from traditionalism, women will have more opportunities in manufacturing and other STEM jobs. I am excited to be able to see this change happen in my lifetime and through my career.
Would you recommend a career in manufacturing? And, if so, why?
Absolutely, I recommend a career in manufacturing! It's difficult not to find it interesting because manufacturing spans into some of the most innovative and high-tech industries! You get to work on the latest developments and have access to new up-and-coming technologies. To see a raw piece of material turned to something workable and usable, you get to look at and say, "I made that." It is very fulfilling and rewarding.
Why did you decide to join Women in Manufacturing? How do you personally find value in WiM membership?
When I first heard about WiM, I was so excited to join and attend events. I want women to feel empowered to work in manufacturing, and WiM is perfect for supporting and inspiring women to reach their goals. I also wanted a network with like-minded women to grow and learn from. When an opportunity on the Washington Chapter Board opened, I applied and got accepted. I am humbled to work with these smart, fantastic women who inspire me to be great.
What do you do to enjoy your time outside of work?
I am an avid nature lover. I love hiking, backpacking, and fly fishing. I also enjoy gardening, reading a good book, gaming, and board games. I love to visit my family or have them come to visit me!