WiM is now a 501(c)6!
Date posted
March 31, 2015
We are thrilled to announce that Women in Manufacturing is now a registered 501(c)6 national trade association.
As Rachel Abbey McCafferty reported in Crain's Cleveland Business over the weekend, we officially filed for our new status on March 19. We celebrated with a cake and this annoucement to our members and supporters on Twitter: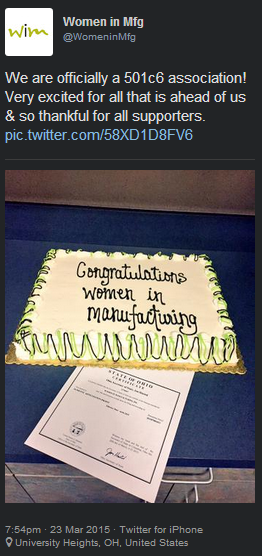 A little history: When we started as an organization in 2011 we were an offshoot of the Precision Metalforming Association (PMA). Now, thanks to almost 500 members, as well as the drive and determination of our leadership, we're off and running on our own.
We are happy to retain the collaborative support (and office space!) of PMA.
In other important news, we held our first official board meeting in Washington, D.C. last week. Gretchen Zierick of Zierick Manufacturing Corp. will be the first chairperson of our organization, having previously served as the first female chair in the Precision Metalforming Association in 2010.
What's next for us? One goal is an increase in membership. We're shooting for 1,000 members by the end of our fiscal year in March 2016.