Erica Wiegel, President at Aro Metal Stamping Co., Inc.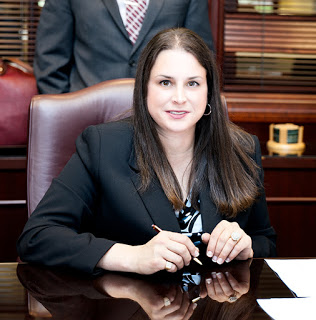 Erica Wiegel, President at Aro Metal Stamping Co.,Inc.
#WiMHearHerStory | @WomeninMFG

At Women in Manufacturing, we are committed to supporting women in the manufacturing sector. We firmly believe that mentorship and community-building will help attract and retain women in manufacturing. As part of our mission, we feature on our blog the stories of women we admire who are currently working in manufacturing. The following is the latest installment of our "Hear Her Story" series.
Please tell our readers a little bit about your job and what your work looks like every day.
With a new business there is no such thing as a normal day... yet.
How did you arrive at your current position? What attracted you to a career in manufacturing?
It's always been a part of my life. My grandfather, father and brother are all engineers. I spent summers in the shop, along with weekends at work with my dad. I attended Northern University where I received my engineering degree.  From college, I started working full-time in the family business.  My brothers and I have tripled my father's business.  We equipped the company with state-of-the-art technology and robust systems.  I ran the prototype department and helped build-up the family business. I felt I still had a lot more room to grow professionally and decided that a new challenge was where I was headed.  So, I decided to buy Aro Metal Stamping Company, Inc. in Roselle, IL.
At WiM, much of our work is dedicated to refuting outdated stereotypes about the manufacturing sector: stereotypes like the workplaces are dirty and dangerous and that the field and skills required are a better fit for men. Have you encountered stereotypes like these in your education or career and how did you overcome them?
Manufacturing is a great industry. It is the only industry that actually produces money and generates wealth.  I don't fall for "stereotypes."  The manufacturing industry is filled with state-of-the-art technology.  I embrace technology. I enjoy learning and creating new processes. To help educate people on the negative stereotypes, I get out and meet people.  I speak to many students—from high school to college.  I educate them on what the industry has to offer.  I make sure to discuss the shortage of people in the industry, as well as the opportunities involved: i.e. apprenticeships or tuition reimbursements.  I also explain the financial burden college cost could put on a family versus an individual working/apprenticeship opportunity and the financial delta involved.
Research shows that women, especially women in STEM fields, do better if they have a mentor. Has mentorship played any role in your career?
Mentors are very important.  I always had my father to look up to, along with many of my co-workers while spending my teen years in the shop.
One of the key findings in WiM's survey is that there is significant overlap between what young women want in careers and the attributes of careers in manufacturing today. But the survey also found that, too often, young women are not aware of the opportunities available in manufacturing. What do you think can be done to spread the word to women about career options in modern manufacturing?
There are many different ways this subject can be approached.  Getting the word out is essential.  With that being said, the industry needs a strong marketing campaign.  We also need manufacturers to partner with organizations to open their doors for open houses and tours to help educate the general public about the industry.  Involving students at a young age and educating them about manufacturing is essential as well.
Our survey also found that the majority of women in manufacturing today would recommend the sector to young women considering career options. Would you recommend a career in manufacturing? And, if so, why?
I would highly recommend the manufacturing industry.  We are the movers and drivers of this country.  At the end of the work-day, you feel accomplished.  For example, what you create today could end up in a car next year.