Chapter Connection | Volume IX, Issue I
WiM's more than 20 active Chapters around the country provide local opportunities for members to network, share best practices and industry information, and engage the communities in which they're located. This is a synopsis of what WiM's Chapters have been up to April through mid-June.



WiM Arizona Lunch and Workforce Roundtable Discussion
WiM Arizona hosted a Lunch and Workforce Development Roundtable on Monday, June 17 in Tucson, AZ. This event gave WiM members and industry professionals the opportunity to network as well as discuss local workforce needs and how to identify the skills and training needed to build local workforce pipelines. The roundtable was led by two Pima Community College officials, Dr. Ian R. Roark, Vice President of Workforce Development, and Greg Wilson, Dean of Applied Technology.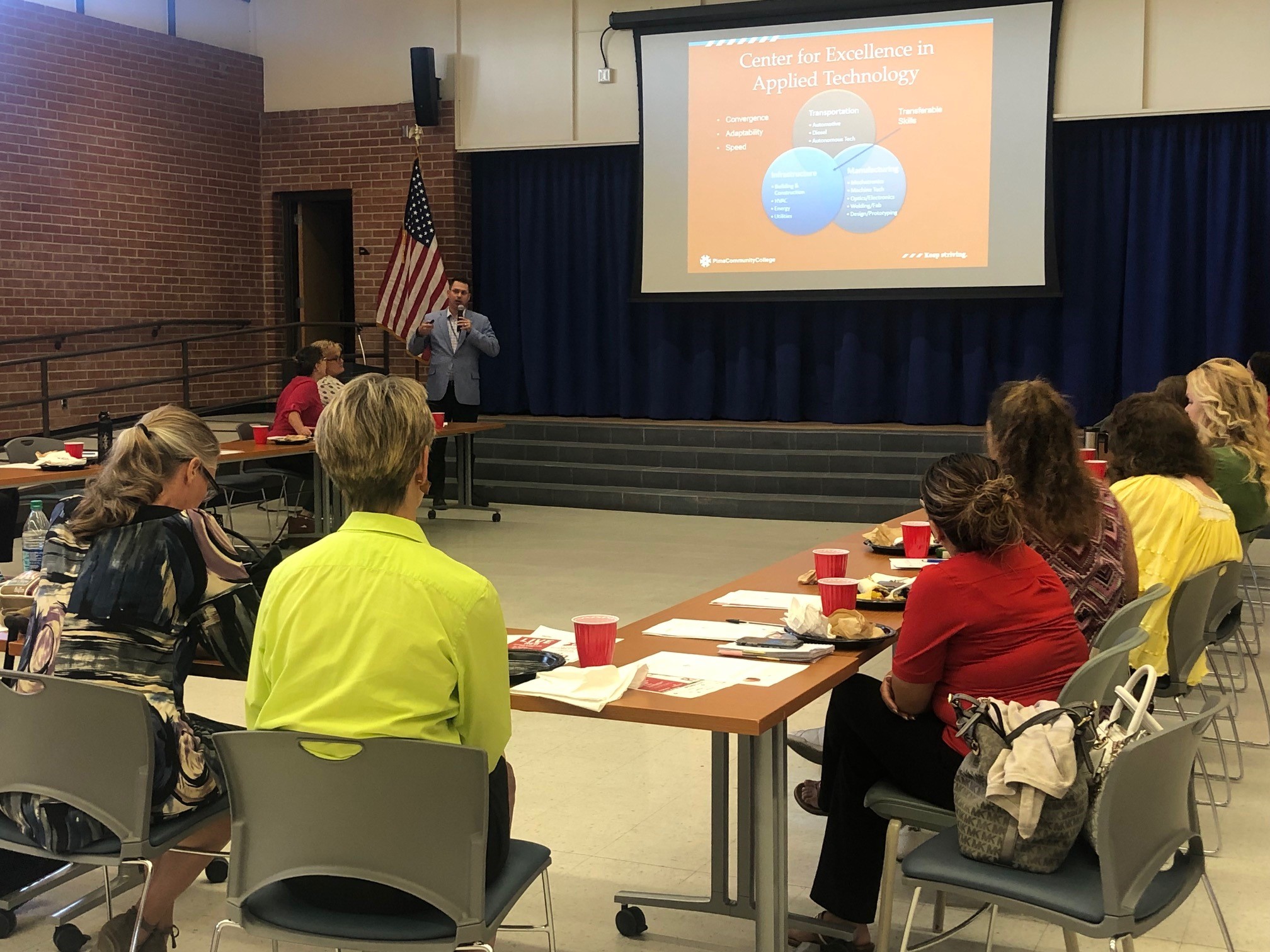 WiM Colorado Safety and Ergonomics in the Workplace Event
WiM Colorado hosted a Safety and Ergonomics in the Workplace event on Wednesday, May 15 in Denver, CO. It kicked off with opening remarks given by Joyce Swanke, Chairperson of WiM Colorado, and their event sponsor, Ann Marie Balon with the Bank of Colorado. The presentation featured Lori Frederic, founder and biomechanics specialist at Balance Biomechanics. Lori specializes in teaching workers to avoid soft tissue injuries through movement mechanics. Her knowledge of human movement and biomechanics gives her the opportunity to share new ideas and bold solutions for injury prevention for all types of workers. The safe operation of CNC machining was also demonstrated. After closing remarks, attendees headed over to Crafty Fox for refreshments and networking.
Tour and Traveling Happy Hour with APICS Northern Colorado
WiM Colorado partnered with APICS Northern Colorado for a Tour and Traveling Happy Hour on Wednesday, June 12 in Niwot, CO. The group visited Sparkfun Electronics, an electronics manufacturer whose products and resources are designed to make electronics more accessible. In addition to over 2,000 open source components and widgets, SparkFun also offers curriculum, training, and online tutorials designed to demystify the wonderful world of embedded electronics. Following the tour, attendees enjoyed happy hour at Element Bistro.

WiM Connecticut Escape Alive Skills Training Workshop
WiM Connecticut held an Escape Alive Survival Skills Training workshop on Saturday, April 6 in Tolland, CT. This special event intended to empower women to defend themselves and those they love as well as provide personal safety and self-defense training fundamentals. Presented by Escape Alive Survival Skills in partnership with Jane Doe No More, this private class was specifically designed to make participants the first line in their defense. Attendees were encouraged to bring donations of personal hygiene items and toiletries which were donated to a local women's shelter. Generously sponsored by WiM Corporate member, MasterCam/CNC Software, Inc., this event was a huge hit!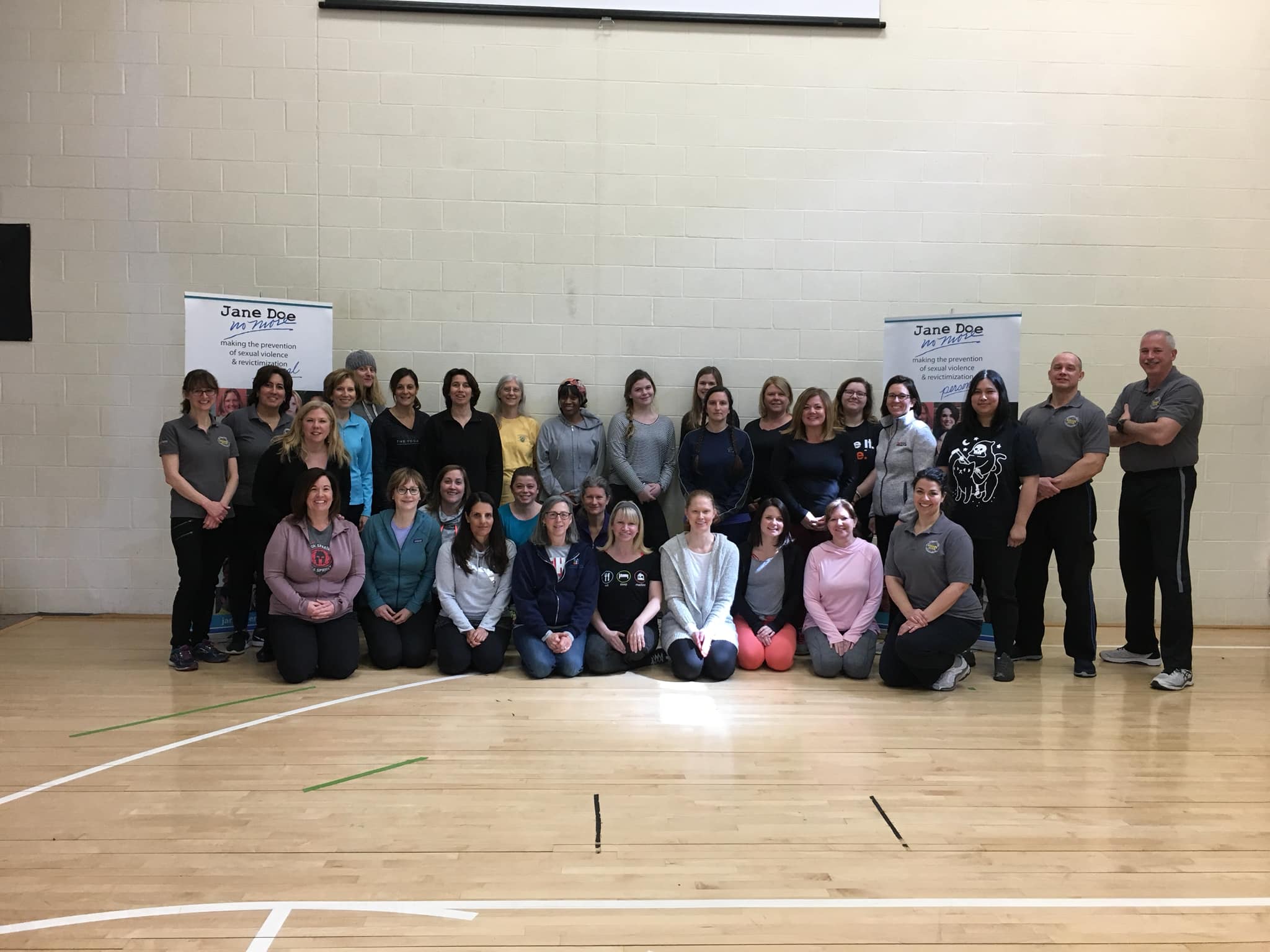 Trade Show and Traveling Happy Hour
WiM Connecticut participated in the Southern New England Design-2-Part Show at Mohegan Sun Expo on April 24 – 25 in Uncasville, CT. This provided a great opportunity for members and manufacturing professionals to learn more about custom and stock parts, components, and services from more than 300 categories at the region's largest contract manufacturing tradeshow. WiM Connecticut had a booth at the show and hosted happy hour at Michael Jordan's 23.sportscafe in the Mohegan Sun Casino.
Tour at OKAY Industries
WiM Connecticut toured OKAY Industries' Berlin facility on Thursday, June 13 in Berlin, CT. OKAY Industries engineers and manufactures components and subassemblies for OEMs in medical, surgical, precision, and specialty markets. During the tour, attendees learned how the company has developed advanced processes for customers with rigorous quality and production requirements as well as how the company's internal value system, "The OKAY Way," has become a central theme in its employee communications that is carried through its three facilities in Berlin and New Britain, CT, and Alajuela, Costa Rica.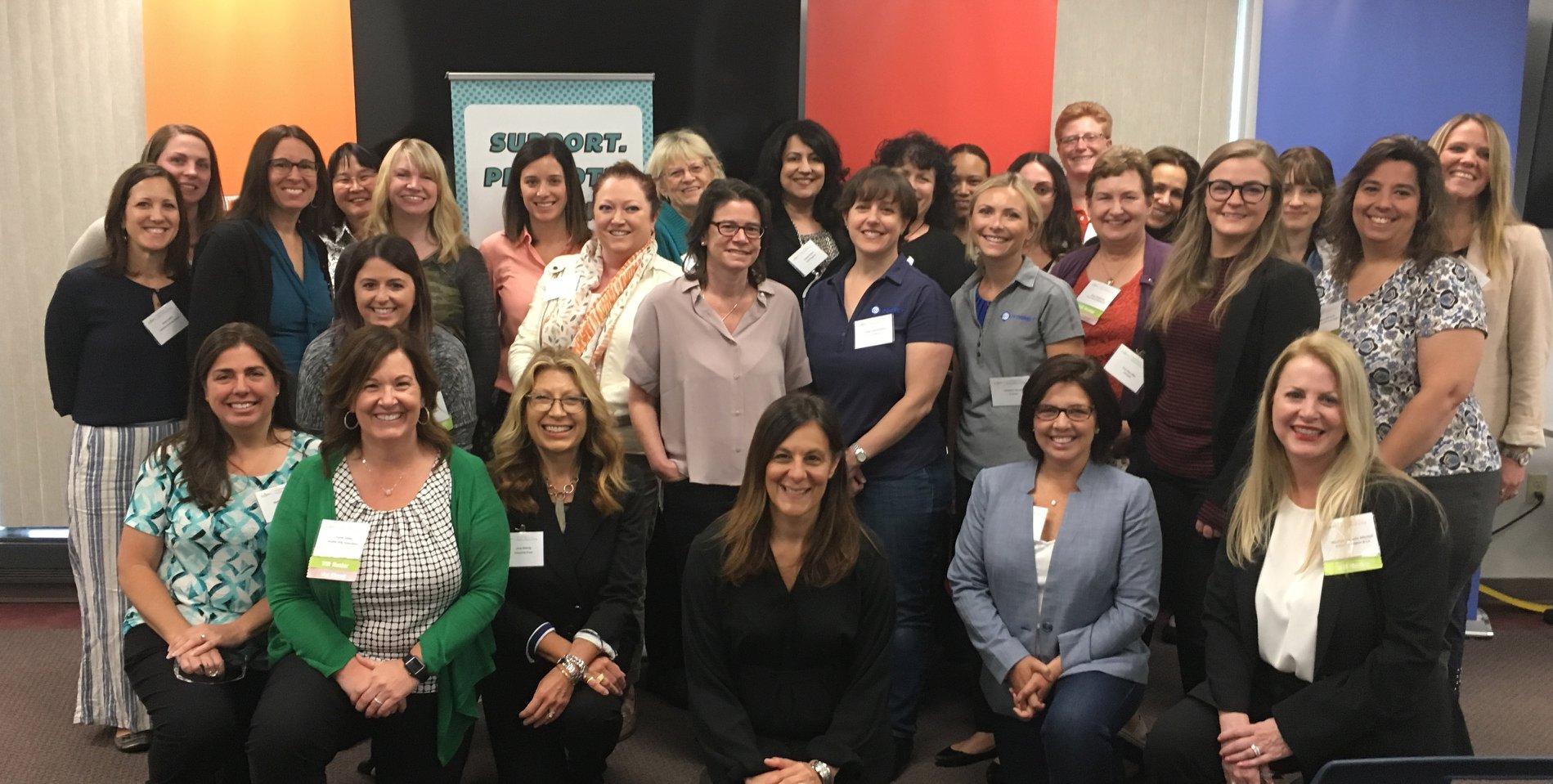 WiM Georgia Summer Social
WiM Georgia kicked off the season with a Summer Social on Wednesday, June 19 in Marietta, GA. The event was hosted at Glover Park Brewery and attendees sampled different craft beers while learning about the beer brewing process from a brewmaster. They also networked, played fun outdoor activities like cornhole, and dined on delicious food from on-site food trucks.
WiM Illinois Tour of Tempel
WiM Illinois toured Tempel, a Chicago-based manufacturer specializing in precision magnetic steel lamination, on Thursday, April 4 in Chicago, IL. What started out as a family-owned business founded in Chicago in 1945 is now one of the world's leading independent manufacturers of precision magnetic steel laminations for the motor, generator, auto and transformer industries, and beyond. Attendees enjoyed a light breakfast and tour of the Tempel facility.
Visit to John Deere Harvester Works
WiM Illinois toured WiM Corporate member facility, John Deere Harvester Works on Thursday, May 2 in East Moline, IL. Since its founding in Illinois in 1837, John Deere has maintained its commitment to deliver products and services to support those linked to the land as a manufacturer of agricultural and construction equipment and parts. Participants networked, enjoyed a light lunch, toured the facility, and learned more about John Deere's products and services.
Northern Illinois Food Bank 5K
WiM Illinois took part in the Northern Illinois Food Bank 5K on Saturday, June 1 in Libertyville, IL. Members joined WiM Illinois' team and ran a certified 5K course followed by a fun, family-friendly festival after the race. The festival area was full of local chefs, restaurants, and vendors providing free samples of food and beverages. Participants had a wonderful time while supporting a great cause!

WiM Indiana Tour at Honda Manufacturing of Indiana
WiM Indiana visited Honda Manufacturing of Indiana for a plant tour on Friday, May 24 in Greensburg, IN. Honda Manufacturing of Indiana's 1.3 million square foot facility is responsible for the assembly, testing, and quality assurance of the Civic Sedan, the car that helped establish the Honda reputation for quality and efficiency, the Honda CR-V, the first SUV built at the plant since production began, and the new 2019 Insight Hybrid. Attendees had lunch, followed by a tour of their stamping, welding, painting, molding, and assembly operations.
Share Her Story Panel Discussion
WiM Indiana partnered with WiM Corporate member, BMO Harris Bank, for an engaging "Share Her Story" Panel Discussion on Thursday, June 20 in Indianapolis, IN. This event was a fun evening filled with networking and inspiration. Attendees mingled, sipped wine, ate appetizers, and listened to a panel discussion which included several women at all levels of a manufacturing organization. Each participant shared her unique story, tips for success, and lessons learned.

WiM Kentucky Tour at Toyota
WiM Kentucky partnered with Toyota Kentucky to host a plant tour on Tuesday, April 16 in Georgetown, KY. Toyota Motor Manufacturing, Kentucky, Inc. (TMMK) is Toyota's largest vehicle manufacturing plant in the world, annually capable of producing 550,000 vehicles and more than 600,000 engines. Since 1988, over 11 million vehicles have rolled off Toyota's assembly lines in Georgetown, where full-time employment is more than 8,000. The plant tour was followed by a Q&A session led by Lisa Richardson, project general manager at Toyota Production System Support Center.
Career Confidence Workshop
WiM Kentucky hosted a Career Confidence Workshop on Wednesday, May 8 in Lexington, KY. Attendees had cocktails, networked, and listened to a panel discussion on tips and tricks for professional networking, interviewing, resume creation, and career advice. This event was a great opportunity for those looking to build their network and/or refresh their understanding of the current job search landscape. Speakers included Rob Parmley with Dress for Success and Lexington Public Libraries, Caroline Francis with the University of Kentucky Alumni Career Services and Job Club, HR professional April Troutman, and Marly Jenkins with BlueGrass Community and Technical College (BCTC).
Happy Hour in Lexington
WiM Kentucky hosted a Lexington Happy Hour on Wednesday, May 15 in Lexington, KY. Members met for drinks and appetizers at Ranada's Bistro & Bar. Co-owner and executive chef, Ranada Riley, met with the group to share her story and answer questions. A female musician was performing live during the event, and attendees enjoyed drinks, networking, and the opportunity to support a woman-owned business and local women artists.

Plant Tour at Olympus Scientific Solutions Americas
WiM Massachusetts toured Olympus Scientific Solutions Americas on Friday, June 21 in Waltham, MA. Olympus Corporation is an international industrial equipment supplier specializing in optics, electronics, and precision engineering. Attendees had the chance to network with industry professionals over breakfast and then heard from staff while touring the facility.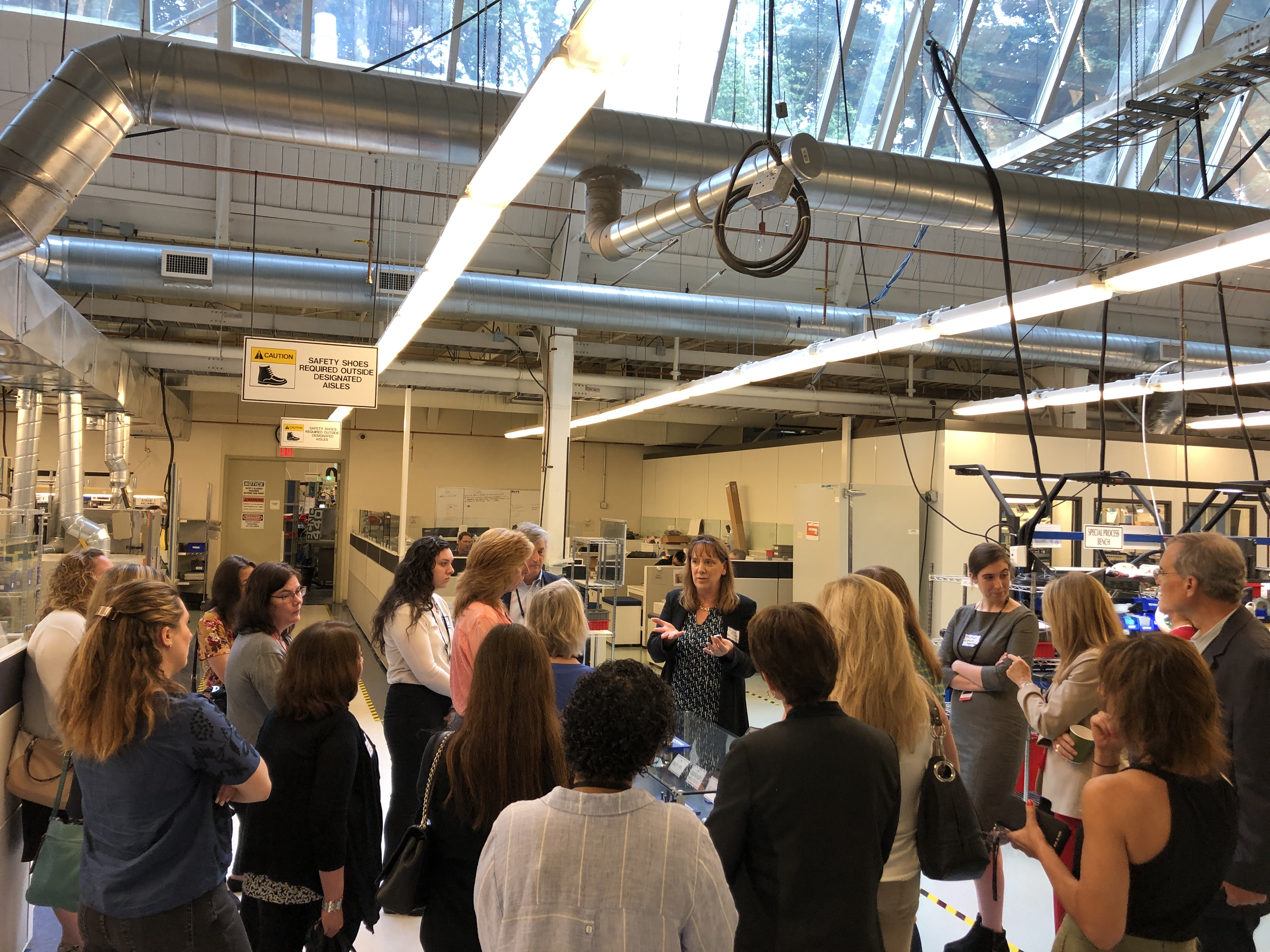 WiM Southeast Michigan Tour at DROUGHT Juice
WiM Southeast Michigan was pleased to partner with DROUGHT Juice for a tour on Wednesday, May 8 in Berkley, MI. Founded and operated by four sisters from Detroit in 2010, DROUGHT is the leading certified USDA organic juice brand in the Midwest and first-to-market in Michigan with four retail locations in the metro-Detroit area and national expansion on the horizon. Guests toured their production facility, learned more about how their exciting company came to be, and sampled some of their organic juices.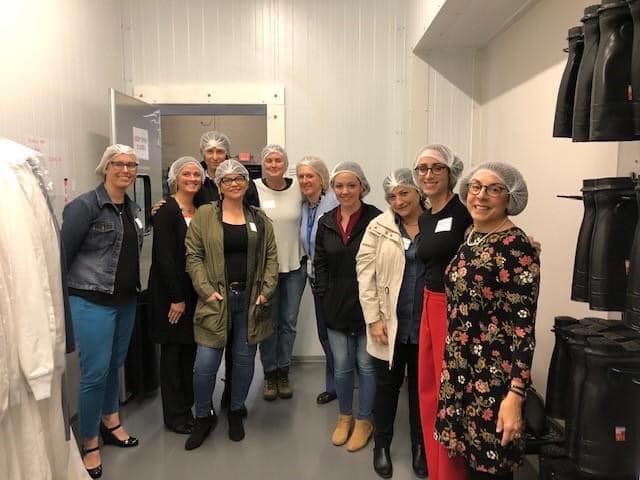 Networking Event at Big Lake Brewing
WiM Western Michigan hosted a networking event at Big Lake Brewing on Wednesday, May 22 in Holland, MI. Guests enjoyed drinks and learning more about WiM Michigan's plans to expand to the Grand Rapids region.
WiM Western Michigan Tour and Talk at Sherwin-Williams
WiM Western Michigan hosted their first official event with WiM Corporate member, Sherwin-Williams, on Thursday, June 20 in Holland, MI. Founded by Henry Sherwin and Edward Williams in 1866, Sherwin-Williams is the largest coatings company in North America, and the third largest in the world. Participants networked with local industry peers and learned more about the processing of paints as they toured Sherwin's impressive facility.

WiM Minnesota Tour of Medtronic
WiM Minnesota hosted a plant tour at Medtronic on Wednesday, April 24 in Brooklyn Center, MN. Founded in Minnesota in 1949, Medtronic is now the largest medical device company in the world with more than 71 million people benefiting from Medtronic technology, services, and solutions last year alone. Today, their technologies are used to treat nearly 40 medical conditions. The tour was followed by a networking reception with appetizers and a presentation by the WiM Minnesota leadership team.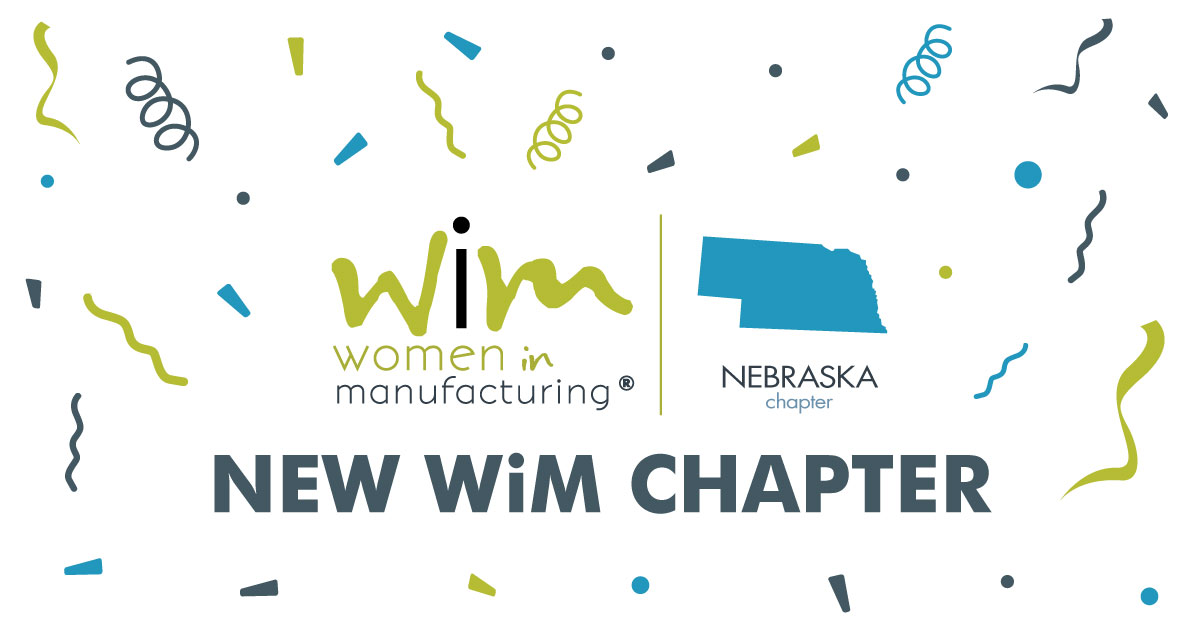 WiM Nebraska Launch Event
WiM Nebraska officially launched as WiM's newest Chapter on Thursday, April 4 in Omaha, NE. WiM's founder and president, Allison Grealis, attended the event and gave a presentation about WiM's mission to support, promote, and inspire women in the manufacturing industry. Afterwards, guests headed to a nearby pizzeria for a mixer. Special thanks to WiM Corporate member, Lindsay Corporation, for hosting the speaking portion of the evening!

WiM North Carolina Pilates for a Purpose
WiM North Carolina attended the grand opening of 15 to Fit Pilates on Thursday, May 2 in Huntersville, NC. All proceeds benefited the American Heart Association and attendees opted to do an impromptu social hour after the event.
Women > A Force in Business Event
WiM North Carolina joined more than 500 professional women at Women > A Force in Business event on Tuesday, April 30 in Charlotte, NC. The event featured three keynote speaking presentations, eight breakout sessions, and an exhibit hall. Topics covered included "How Women Lead: Challenging the Gendered Norms of Leadership," "The Importance of Having Courageous Conversations," and more.

WiM Ohio Sustainability Lunch and Learn Panel Discussion
WiM Ohio hosted a Sustainability Lunch and Learn on Tuesday, April 30 in Cleveland, OH. Doors opened at 11:30 a.m. and guests networked over lunch. The panel portion of the program soon followed with 45 minutes of moderated discussion and a Q&A session. Panelists included Nicole Stika with Greater Cleveland Partnership/COSE, Susann Geithner with Principal Emerald Built Environments, Jessica Tyler with Rudolph Libbe, Trisha Brown with Great Lakes Biomimicry, and Tracey Shaeffer with TimkenSteel was the moderator. Each panelist offered their unique experience and expertise in the energy sustainability space.
Professional Development Lunch and Learn
WiM Ohio hosted the second part of their Lunch and Learn series on Wednesday, May 29 in Independence, OH. This session focused on two key areas of professional development: learning how to strategically build your manufacturing network, and examining your personal goals to implement goal setting. They were joined by Kim Riley, president of Hylant, who shared how manufacturers can build their network using the LinkedIn platform to gain valuable industry contacts and connections. Their second speaker, Adele DiMarco, founder of Yinovate, LLC and a certified Life Mastery Consultant, helped them explore their personal goals for overall professional and self-improvement.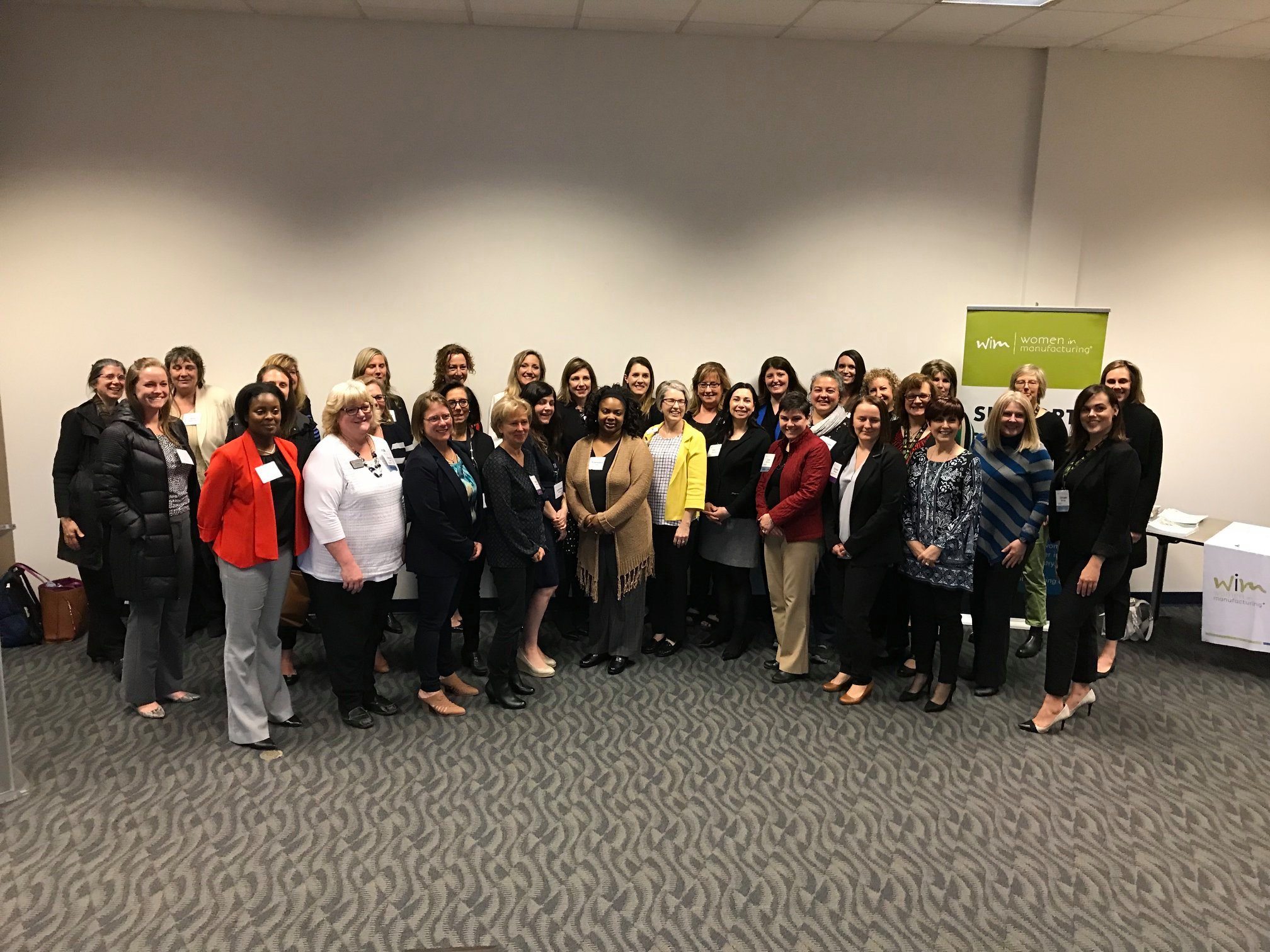 Traveling Happy Hour at Fat Head's Brewery
WiM Ohio hosted a Traveling Happy Hour at Fat Head's Brewery on Tuesday, June 18 in Middleburg Heights, OH. Guests enjoyed great craft beer and getting to know one another. WiM Ohio also shared more information about their upcoming events.

WiM Eastern Pennsylvania Tour at Automation Distribution
WiM Eastern Pennsylvania toured Automation Distribution on Thursday, April 25 in Hatfield, PA. Automation Distribution is an automation solutions provider specializing in pneumatics, electrical control, and motion control products to help customers meet their automation design goals with cost-efficient technical solutions. Participants also enjoyed lunch and learned more about upcoming Chapter events.

WiM South Carolina Keynote Speaking Event
WiM South Carolina held a breakfast and keynote speaking event on Thursday, May 9 in Greenville, SC. The group discussed manufacturing in South Carolina and available industry resources. Topics and speakers included "Utilization of South Carolina Ports" with the SCPA, "Economic Development in South Carolina" with Upstate Alliance, "Reaching the Workforce" with SC Works, and "Grant Monies for Manufacturing" with Greenville Technical College.

WiM Wisconsin 2019 Kickoff Event
WiM Wisconsin hosted a 2019 Chapter Kickoff event on Thursday, May 9 in Milwaukee, WI. Guests met the new WiM Wisconsin leadership team and networked with industry peers over drinks and appetizers. Their speaker, Lisa Horn, director of consulting at CLA, presented on "The Innovative Guide to Successfully Managing a Multigenerational Organization." Participants then enjoyed a brewery tour of Black Husky Brewing.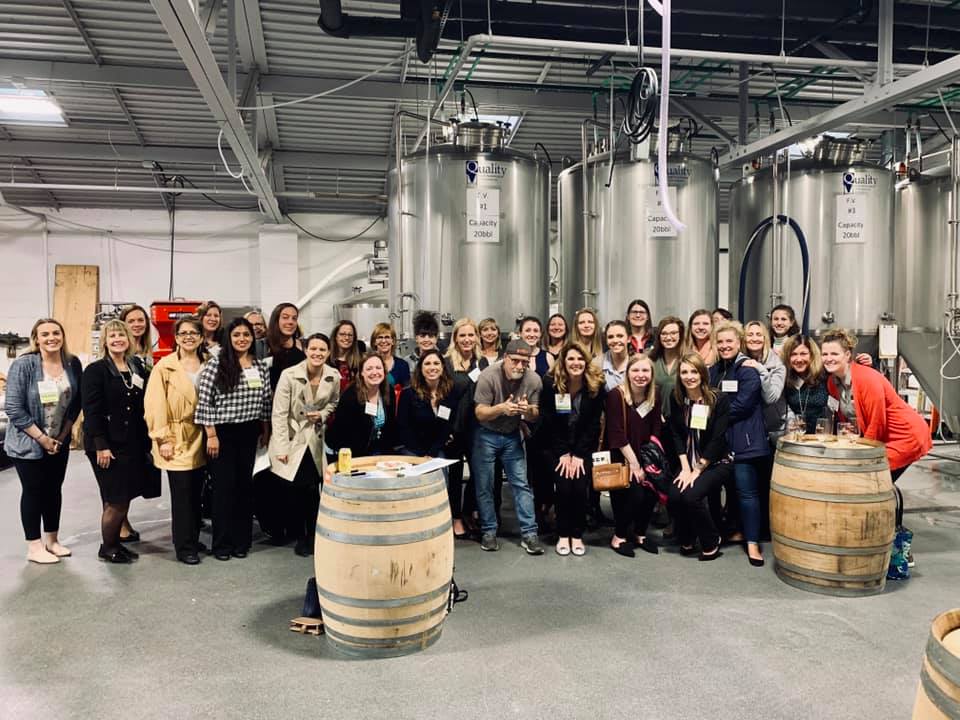 Plant Tour and Panel Discussion at Midwest Composite Technologies
WiM Wisconsin hosted a plant tour and panel discussion on Thursday, May 30 in Hartland, WI. They began the event at Midwest Composite Technologies, a local manufacturer specializing in 3D prototyping and on-demand production that provides the latest in additive and traditional manufacturing solutions. Guests heard a company overview, followed by group tours of the facility's capabilities, including rapid prototyping, CNC machining, injection molding and vac forming, and more. After the tour, attendees headed to Water Street Brewery for networking, dinner, and a panel discussion with additive manufacturing experts.