Benefits of the International Women's Network
Date posted
August 8, 2022

---
So What Are The Benefits of The International Women's Network (IWN)?
The IWN provides a space to build a network, learn about international industry topics, and have a place to share personal and professional stories.
This network will bring international industry topics to the forefront and discuss how those trends will affect the global manufacturing ecosystem. The IWN kicks off its programming with a virtual forum on August 25, 2022. The event will feature guest speaker Susanne Lauda of AGCO Corporation, and interactive roundtable discussions on how to thrive in the manufacturing space and innovative ways that companies are supporting and advancing women.
We currently have 136 attendees registered from 102 unique companies, representing 7 countries, so far. Want to join?
---
WiM's International Stats
Present-day WiM supports 628 international members in 40 countries with our largest concentration in Canada, Mexico, India, Brazil, and Germany.
While, presently, women represent nearly 50% of the global workforce, according to the World Manufacturing Foundation

,

women represent only 30% of the international manufacturing industry. Although other sources say, it's closer to 37% (OECD/UNIDO).
The number of women in the global manufacturing industry has been slowly increasing as shown below in Table 1. Especially within middle-income countries, as shown in Figure 3.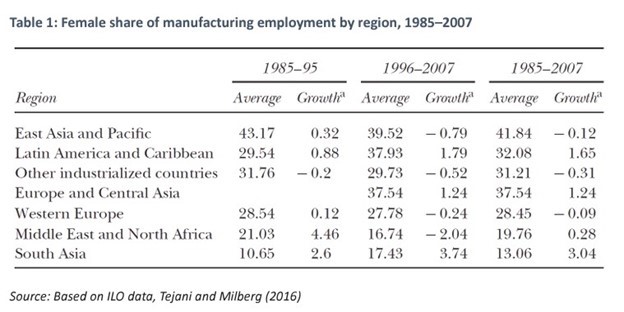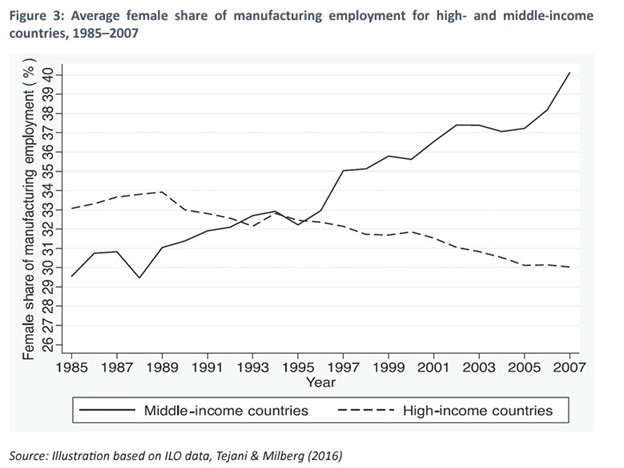 "As WiM membership continues to grow internationally, we are thrilled to bring networking opportunities to this community through the launch of our International Women's Network," said WiM President Allison Grealis. "A taskforce of WiM members, led by Chair Jeff White of Robinson+Cole, was formed earlier this year to discuss the needs of our international members and to develop programming and a peer network to meet those needs. As a result, the IWN was created. We look forward to offering quarterly IWN forums that provide international insights into key industry topics."
---
We're going to Germany, are you in?
IWN plans to host a live networking event in Stuttgart, Germany on November 2, 2022. This event will feature guest speakers, factory tours, roundtables and a cocktail party afterwards to celebrate! You can fill out our interest form for the Stuttgart event here. More information to come.
Visit the IWN webpage for more details.
Contact Kay Adams at kadams@womeninmfg.org with questions.