Taryn West, Vice President at K.R. West Company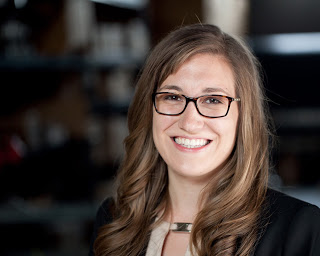 Taryn West, Vice President at K.R. West Company
#WiMHearHerStory | @WomeninMFG

At Women in Manufacturing, we are committed to supporting women in the manufacturing sector. We firmly believe that mentorship and community-building will help attract and retain women in manufacturing. As part of our mission, we feature on our blog the stories of women we admire who are currently working in manufacturing. The following is the latest installment of our "Hear Her Story" series.
Please tell our readers a little bit about your job and what your work looks like every day.
Being in a small family business, my day is influenced by the company's current needs. My job currently consists of hydraulic power unit documentation. This means I quote/design power units, process orders, build bill of materials, create schematics, track parts for assembly and when required create drawings. I also do some marketing and am responsible for our web presence. I started in bookkeeping and now manage the accounts payable and receivables. When needed, I deal with customer and supplier issues, and help in insides sales and purchasing.
How did you arrive at your current position? What attracted you to a career in manufacturing?
The company was started by my grandfather 36 years ago and has been run by my father since I was little. I gained an interest in hydraulics when I built hydraulic lube panels for cranes. I thought it was so cool that I was able to build panels that were used on cranes and looked into other applications. I started working in the office in high school and worked hard to gain my current position of vice president.
At WiM, much of our work is dedicated to refuting outdated stereotypes about the manufacturing sector: stereotypes like the workplaces are dirty and dangerous and that the field and skills required are a better fit for men. Have you encountered stereotypes like these in your education or career and how did you overcome them?
I have definitely encountered the stereotypes in this male-dominated field. I often get asked if I have any male siblings or an older brother who are in the business. I do have an older brother that is not interested and I often share this information. Being a young female, I feel I have had to work harder in situations to gain respect. I try not to let this bother me and face the challenge head on.
In school, I fell into the "hidden curriculum." Since I was little I excelled at math, science and even language. When I was in middle school, I was friends with other girls that did not excel in these fields and I stopped trying as hard in math. I also stopped reading, which looking back was so unlike me. I had teachers in high school who helped me see my potential and professors in college that inspired me.
Research shows that women, especially women in STEM fields, do better if they have a mentor. Has mentorship played any role in your career?
Definitely! My dad is my mentor and even though he is a male, he has taught me a lot about our company and our industry. Recently, I have gained a female mentor who is president of a similar organization through the FPDA (Fluid Power Distribution Association). I am excited to get another female perspective from a very talented woman.
One of the key findings in WiM's survey is that there is significant overlap between what young women want in careers and the attributes of careers in manufacturing today. But the survey also found that, too often, young women are not aware of the opportunities available in manufacturing. What do you think can be done to spread the word to women about career options in modern manufacturing?
I am a big believer in STEM programs and believe there needs to be a push to get more girls involved at a young age. Recently I started helping at the local Boys and Girls Club in the STEM program. The teen girls were unaware of the STEM careers they could pursue, but did not take enough interest in the program (because I believe they have all been heavily influenced by the hidden curriculum that STEM is a "boys club"). We found it was much easier to get the younger girls excited in STEM programs.
Our survey also found that the majority of women in manufacturing today would recommend the sector to young women considering career options. Would you recommend a career in manufacturing? And, if so, why?
I would highly recommend manufacturing to young women. Manufacturing can provide very rewarding opportunities and there are many good jobs available that can appeal to different mindsets. Many of these manufacturers care for their employees and provide great pay and benefits. Manufacturing also has great educational options. Along with my business degree, I have Electro-Mechanical certificates from FVTC. I really enjoyed my program at the Tech.
Why did you decide to join Women in Manufacturing? How do you personally find value in WiM membership?
I decided to join Women in Manufacturing after attending a presentation at the Manufacturing First event in Green Bay. I met members of WiM and saw value in networking with these women. I have attended professional women's groups before and found there were no members in my field. I have also found value in the forum on WiM's website. When I was looking for ideas to get girls interested in STEM, I had multiple women respond with helpful insights.