Sherrika Sanders, R&D Director at Authentix, Inc.
Date posted
September 2, 2017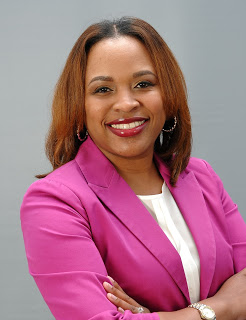 Sherrika Sanders, R&D Director at Authentix, Inc.
#WiMHearHerStory | @WomeninMFG

At Women in Manufacturing, we are committed to supporting women in the manufacturing sector. We firmly believe that mentorship and community-building will help attract and retain women in manufacturing. As part of our mission, we feature on our blog the stories of women we admire who are currently working in manufacturing. The following is the latest installment of our "Hear Her Story" series.
Please tell our readers a little bit about your job and what your work looks like every day.
I am currently the R&D Director at Authentix, Inc. located in Dallas, TX. In this role, I manage development, formulation, scale-up, quality and commercialization of markers for authentication solutions. I also lead the environmental, health and safety function for our company. Given the breadth of my role, no two days are the same. Each day is exciting and provides a unique opportunity to make a difference within the company and the customers we serve.
How did you arrive at your current position? What attracted you to a career in manufacturing?
After receiving a PhD in Inorganic Chemistry and completing postdoctoral research, I enjoyed a nine-year career as a senior scientist, technical services scientist and group leader for one of the largest integrated chemical and manufacturing companies in the world. This experience had a huge impact in preparing me for my current role at Authentix, Inc. While I was exposed to chemistry in high school through summer camps, teachers and mentors, it was my industrial research experience that solidified a passion in me to continue to use my skills and knowledge to deliver value to our customers through manufacturing.
At WiM, much of our work is dedicated to refuting outdated stereotypes about the manufacturing sector: stereotypes like the workplaces are dirty and dangerous and that the field and skills required are a better fit for men. Have you encountered stereotypes like these in your education or career and how did you overcome them?
In corporate America, I have certainly noticed that men are typically viewed as a better fit for certain jobs over women. I overcame this bias by first changing my own mentality about these jobs, and subsequently planting the seeds of change with everyone I interact with. Regardless of my gender, my focus has always been on performing well in my current role because this is what best positions you for future opportunities.
Research shows that women, especially women in STEM fields, do better if they have a mentor. Has mentorship played any role in your career?
Absolutely! I have had many mentors at all levels of the organization throughout my career. I would not be where I am today without their support. They have provided advice/guidance/feedback, acted as a sounding board for ideas and concerns, provided insight into opportunities and served as a champion when needed.
One of the key findings in WiM's survey is that there is significant overlap between what young women want in careers and the attributes of careers in manufacturing today. But the survey also found that, too often, young women are not aware of the opportunities available in manufacturing. What do you think can be done to spread the word to women about career options in modern manufacturing?
First, we should take advantage of unique opportunities to introduce and expose girls to career options in STEM and modern manufacturing earlier in the pipeline. As I mentioned, it was a high school science camp that sealed the deal for me early on. Secondly, success breeds success. As simple as it may seem, we should look for opportunities to make those women who have been successful in manufacturing more visible to other young women.
Our survey also found that the majority of women in manufacturing today would recommend the sector to young women considering career options. Would you recommend a career in manufacturing? And, if so, why?
I would certainly recommend a career in the manufacturing sector to young women. I believe my story, and the stories of so many other WiM members, is a testament to the fact that this can be a very rewarding and fulfilling career option. Aside from the tangible benefits, a career in modern manufacturing provides interesting and challenging work, the opportunity to be highly innovative and the ability to "see" your work product.
Why did you decide to join Women in Manufacturing? How do you personally find value in WiM membership?
I originally decided to join WiM on the recommendation of a senior leader in my company. I am so glad I did! The connections and support provided by this organization have been absolutely phenomenal. I am able to connect with other women of like backgrounds and learn from and seek advice from those who have more career longevity.