Sasha Cubero, Trainee at West-Conn Tool, Inc.
Date posted
September 25, 2018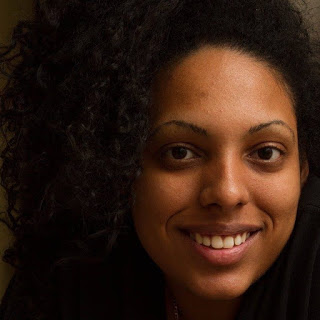 Sasha Cubero, Trainee at West-Conn Tool, Inc.
#WiMHearHerStory | @WomeninMFG

At Women in Manufacturing, we are committed to supporting women in the manufacturing sector. We firmly believe that mentorship and community-building will help attract and retain women in manufacturing. As part of our mission, we feature on our blog the stories of women we admire who are currently working in manufacturing. The following is the latest installment of our "Hear Her Story" series.
Please tell our readers a little bit about your job and what your work looks like every day.
My job at West Conn Tool is a part-time position as a trainee. I am starting off in quality control as an inspector to gain a better understanding and appreciation of how important it is to maintain quality in all jobs for every customer. I inspect various parts in numerous ways such as: micrometer, comparator, caliper, gage pins, CMM machine, height gage, etc. My job is to make sure that each part I inspect reaches blueprint requirements for that particular job. If the part fails to reach the requirements (be out of tolerance), it is my job to inform the machine operator(s) of the issue. Quality control is typically seen as the backliner, because it is the last department to ensure that the parts meet customer specifications before being shipped out.
How did you arrive at your current position? What attracted you to a career in manufacturing?
I attended a program at Housatonic Community College named Advanced Manufacturing of Technology Center (AMTC for short). It is an intensive 9-month program that provides an entry level understanding of manufacturing and what it encompasses going to a field that is very involved with machinery and instruments used to measure parts. It provides classroom learning and hands-on training on various machines. I learned about manufacturing through two people I know from my personal life who have also attended the program, and they both came out with jobs right after they graduated. Within a couple of months, they managed to get their own places, and this inspired me to try out manufacturing in the hopes of getting a better job.
At WiM, much of our work is dedicated to refuting outdated stereotypes about the manufacturing sector: stereotypes like the workplaces are dirty and dangerous and that the field and skills required are a better fit for men. Have you encountered stereotypes like these in your education or career and how did you overcome them?
The stereotypes are indeed outdated and untrue. Most if not all manufacturing companies are very clean and are required to maintain OSHA law. A manufacturing company would not survive for too long if it failed to comply with OSHA requirements. Factories are clean and the work areas are separated with yellow lines on the floor to make a nicer looking workspace. No horseplay is allowed, and machines and tools are to be maintained and clean at all times. Workers are required to wear protective gloves and steel-toed boots. Loose clothing and untied hair are violations and consequences will follow if the worker does not comply with safety rules. Lockout/tagout is another in-depth safety rule with machines. Both men and women can learn the skills necessary for this career field. It involves a basic understanding of math and how to operate a machine. I have never encountered these stereotypes, and I am the first female to work on the manufacturing floor at West Conn Tool. I am treated no differently than any man.
Research shows that women, especially women in STEM fields, do better if they have a mentor. Has mentorship played any role in your career?
Yes, I definitely had a mentor who played a significant role in my manufacturing training. Her name is Paula Chapla, and she is the strongest woman I have encountered in my educational experience, especially in my manufacturing program. She was my teacher for the AMTC program, and she taught me milling alongside Michael Gugger on the operating floor. As a woman who has worked at Sikorsky and has vast experience and knowledge surrounding manufacturing, Ms. Chapla taught me how important it is to be confident in yourself. I learned not to be intimidated working alongside men. Ms. Chapla has told me stories where she encountered many struggles in the manufacturing field that could bring a tear to anyone's eye. She is very happy to see how times have changed from when she first started to now seeing women starting to enter this career field. I have great admiration and respect for Ms. Chapla, not only as a woman, but as a person who surpassed many struggles and someone who demonstrates how to be head-strong.
One of the key findings in WiM's survey is that there is significant overlap between what young women want in careers and the attributes of careers in manufacturing today. But the survey also found that, too often, young women are not aware of the opportunities available in manufacturing. What do you think can be done to spread the word to women about career options in modern manufacturing?
Women should really look into their local colleges to see what the school has to offer. A lot of the times, those programs have the right connections and resources to get anyone into those jobs and opportunities.
Our survey also found that the majority of women in manufacturing today would recommend the sector to young women considering career options. Would you recommend a career in manufacturing? And, if so, why?
One key phrase I have learned working in manufacturing is "It depends." And I say this because it really depends on whether the person wants to do manufacturing. I chose this field to have a better job to support my passion, which happens to be art. Each person has a different story or circumstance that would need to be taken into account. If anyone desires a stable career that pays a good wage, I would recommend it.
Why did you decide to join Women in Manufacturing? How do you personally find value in WiM membership?
Women in Manufacturing is an amazing association that is dedicated to supporting women in the industry. It is valuable to me in the sense that I get to learn and read about other women who are in the same career field as me. It is great to know that support is always there when needed.