Lyse Moreau, President at International Sew Right
Date posted
January 28, 2015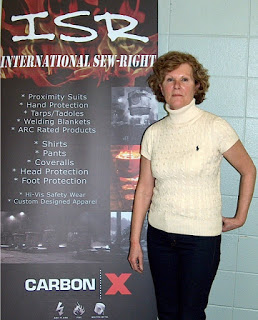 Lyse Moreau, President at International Sew Right
#WiMHearHerStory | @WomeninMFG

At Women in Manufacturing, we are committed to supporting women in the manufacturing sector. We firmly believe that mentorship and community-building will help attract and retain women in manufacturing. As part of our mission, we feature on our blog the stories of women we admire who are currently working in manufacturing. The following is the latest installment of our "Hear Her Story" series.
Please tell our readers a little bit about your job and what your work looks like every day.
My position varies from an overall decision maker to a designer helping to create a safety-related item for a client.
How did you arrive at your current position? What attracted you to a career in manufacturing?
I started at International Sew Right as an accountant and I eventually progressed into sales. In 2001, I purchased 50 percent of the company and by 2005, I was the sole owner.
I have always had a passion for helping people. Manufacturing and custom designing allows me to be flexible with customers to provide them with what they need to be safe and comfortable on the job.
At WiM, much of our work is dedicated to refuting outdated stereotypes about the manufacturing sector: stereotypes like the workplaces are dirty and dangerous and that the field and skills required are a better fit for men. Have you encountered stereotypes like these in your education or career and how did you overcome them?
I operate within the "Man's World"! However, it is more acceptable today for women to be involved in the safety environment than it has been in previous years. To overcome stereotypes, I take the time to be specific and pay attention to detail, and I take pride in being knowledgeable and skilled in my work.
Research shows that women, especially women in STEM fields, do better if they have a mentor. Has mentorship played any role in your career?
Mentors keep me ahead of the curve and prepared for whatever comes my way. Being alert for unexpected challenges prevents confusion, and by having everyone on the same page, we can accomplish more and excel beyond expectations.
One of the key findings in WiM's survey is that there is significant overlap between what young women want in careers and the attributes of careers in manufacturing today. But the survey also found that, too often, young women are not aware of the opportunities available in manufacturing. What do you think can be done to spread the word to women about career options in modern manufacturing?
What WiM is doing right now is great! By e-mailing, networking and speaking to others about manufacturing, we are spreading the word.
Our survey also found that the majority of women in manufacturing today would recommend the sector to young women considering career options. Would you recommend a career in manufacturing? And, if so, why?
Manufacturing is a career path that expands your knowledge and ability to grow. If you can dedicate yourself 24/7 to your passion, you will always succeed.
Why did you decide to join Women in Manufacturing? How do you personally find value in WiM membership?
WIM is a wonderful avenue especially for women entrepreneurs. This organization can help with obtaining information that saves hours of research.