Cindy Logan, Senior Manager of Tobacco Processing, John Middleton Company, an Altria Co.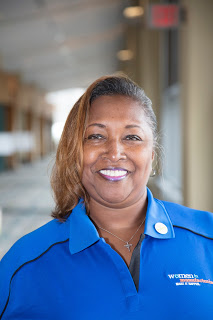 Cindy Logan, Senior Manager of Tobacco Processing, John Middleton Company, an Altria Co.
#WiMHearHerStory | @WomeninMFG

At Women in Manufacturing, we are committed to supporting women in the manufacturing sector. We firmly believe that mentorship and community-building will help attract and retain women in manufacturing. As part of our mission, we feature on our blog the stories of women we admire who are currently working in manufacturing. The following is the latest installment of our "Hear Her Story" series.
Please tell our readers a little bit about your job and what your work looks like every day.
I am the senior manager of tobacco processing for John Middleton Company, an Altria Co. I lead and manage a team of about 60 hourly and salaried employees to responsibly process tobaccos for the manufacture of Black and Mild brand products. My job responsibilities range anywhere from counseling employees on personal decisions to developing employees on reaching their maximum capability, to assuring the thought processes and actions are compliant with our company's policies from the water we use to the tobacco we bring in and the handling of our waste products. A very large portion of my job and the piece I probably enjoy the most is looking for opportunities to continue to engage the employees in better understanding the business, appreciating the work we do and positively impacting the bottom line.
How did you arrive at your current position? What attracted you to a career in manufacturing?
More than 28 years ago, I started at Philip Morris USA as a front line supervisor. I have had many leadership opportunities in production, quality and production support. After about 20 years at Philip Morris and following the acquisition of John Middleton Inc., I was afforded the opportunity to start up the Quality Assurance and Records Management Department for JMI (now known as JMC) company. I performed those duties for approximately 1.5 years and was then promoted to plant manager of the King of Prussia Tobacco Processing plant. As a child, I always liked "putting things together," hence wanting to get a degree in engineering. A few friends and mentors mentioned to me that manufacturing would be a great career for a woman with my personality and background. I looked into it and lo and behold I've never left it and have been truly blessed and rewarded in all aspects of my life.
At WiM, much of our work is dedicated to refuting outdated stereotypes about the manufacturing sector: stereotypes like the workplaces are dirty and dangerous and that the field and skills required are a better fit for men. Have you encountered stereotypes like these in your education or career and how did you overcome them?
Coming into manufacturing over 25 years ago there were many stereotypes and obstacles to overcome. The safe workplace requirements are more stringent now and ergonomically safer to help all body types, man or woman. My parents raised me and my siblings to give it your all, no matter what you were doing so at the end of the day you could look yourself in the mirror and say I did my best. There were many situations I faced, be it if I was not selected to be groomed for the next level (because I was a woman) or if my fear of heights creeped in as I had to climb on equipment to perform checks. I refused to give up and/or give in. I didn't get that opportunity I thought I wanted at the next level, but I was promoted to the manager (three levels up) of that department. Maybe the promotion came because I was a woman, (some people have said that), but I proved to my management that I had the stamina, the perseverance, the leadership, the personality, and the known how to do the job.
Research shows that women, especially women in STEM fields, do better if they have a mentor. Has mentorship played any role in your career?
Yes, I've been fortunate to have many mentors to guide and coach me along my educational and professional career path. They not only served as mentors but in some cases as sponsors. I was very fortunate to have a college professor as well as a neighborhood friend care enough about me to assist me in getting valuable internships that provided me with real life experiences. During my tenure at Altria, I've experienced having both male and female mentors. I believe it's important to get insight and guidance from both sides, the more diverse the thought process the more perspectives you have to draw from. Some of those mentors are retired or have moved on to other companies but I still share a closeness with them that is treasured. So in the end I also received a confidant and friend. I strongly believe that a mentoring partnership is two ways and it's possible for both parties to benefit.
One of the key findings in WiM's survey is that there is significant overlap between what young women want in careers and the attributes of careers in manufacturing today. But the survey also found that, too often, young women are not aware of the opportunities available in manufacturing. What do you think can be done to spread the word to women about career options in modern manufacturing?
We as women in manufacturing need to look for venues to explain and highlight the opportunities and rewards in the field of manufacturing. I think society as a whole is coming back to manufacturing, not the way it used to be but modern manufacturing. I'm hearing more about programs that are supporting STEM activities and events for girls. For example, the movement for Million Women Mentors is nationwide and is continually looking for groups to help support and mentor young ladies in STEM-related educational fields and careers. We as women in manufacturing see, sometimes even within our own companies, the opportunity to increase the talent in the pipeline. So I encourage all of us to expose our daughters, nieces, neighbors and cousins to the modern way of manufacturing and show them what a terrific and rewarding place it is to work.
Our survey also found that the majority of women in manufacturing today would recommend the sector to young women considering career options. Would you recommend a career in manufacturing? And, if so, why?
Yes, I would recommend manufacturing as a career option. I've been afforded a lifestyle that I may not otherwise have had. I've had opportunities to travel overseas with my company and be involved in leadership initiatives to help further develop and engage our employees. It was this type of involvement that led me to what I know and understand to be my passion. Yes, I have to understand process flows, equipment and product requirements, but I also am involved in developing and coaching employees. There are so many different aspects to manufacturing (analytical sciences, quality control, marketing, logistics, procurement, continuous improvement, research and development, regulatory affairs, community affairs, government affairs, etc.) that any young lady could find her niche in manufacturing and be very happy.
Why did you decide to join Women in Manufacturing? How do you personally find value in WiM membership?
Our company Employee Resource Group (ERG) is also called Women in Manufacturing (WiM) and as the Program Lead I was looking for resources to assist us in quality programming. I was elated to find WiM and its many resources. Our company is a corporate member and has been for the last two years. It's been a pleasure becoming more involved with the organization and the people who run it. We utilize some of the programming to gain insights into the marketplace as well as to introduce our members to networking outside of our organization.