#WiMHearHerStory with Ranae Anderson, Global Sustainability Leader, Universal Fibers, Inc.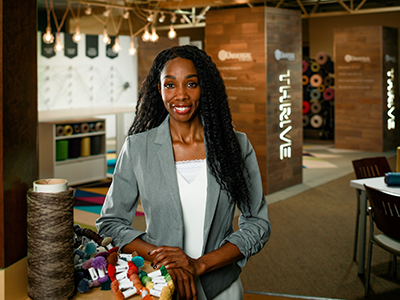 Ranae Anderson, Global Sustainability Leader, Universal Fibers, Inc.
#WiMHearHerStory | @WomeninMFG


At Women in Manufacturing, we are committed to supporting women in the manufacturing sector. We firmly believe that mentorship and community-building will help attract and retain women in manufacturing. As part of our mission, we feature on our blog the stories of women we admire who are currently working in manufacturing. The following is the latest installment of our "Hear Her Story" series.
Please tell our readers a little bit about your job and what your work looks like every day.
As the global sustainability leader for Universal Fibers, I'm responsible for developing and directing sustainability across our global operations. One of the many things I love about my job is that it affords me an opportunity to make the world a better place. One day, I'm out in the community supporting our local TSA agents with lunch during the government shutdown, the following day I could be planning a trip halfway around the world to visit a plant and understand the chemical recycling process for one of our raw materials necessary to support our product line.
How did you arrive at your current position? What attracted you to a career in manufacturing?
The path to my current position was not a straight line. Those building a career in sustainability know this all too well. It's not as straight forward as some other careers like in law or academia. This field is still new and evolving which makes it even more important to continue to learn and be flexible. Don't be afraid to try something new – whether an academic course, a workshop or a professional accreditation – if you think that it is something that interests you and will give you purpose then go for it. Never stop becoming.
"For me, becoming isn't about arriving somewhere or achieving a certain aim. I see it instead as forward motion, a means of evolving, a way to reach continuously toward a better self. The journey doesn't end." ― Michelle Obama, Becoming
At WiM, much of our work is dedicated to refuting outdated stereotypes about the manufacturing sector: stereotypes like the workplaces are dirty and dangerous and that the field and skills required are a better fit for men. Have you encountered stereotypes like these in your education or career and how did you overcome them?
Perceptions of manufacturing continue to be outdated among women. It's important to increase the visibility of female role models at all levels. This needs to occur starting in grade school, which is one of the many reasons why I participate in STEM mentorship outside of work with six graders at our local community schools. It's hard to aspire to what you don't see.
Research shows that women, especially women in STEM fields, do better if they have a mentor. Has mentorship played any role in your career?
There is no doubt that having a mentor is important to the trajectory of your career. Unfortunately, finding and having access to an appropriate mentor, especially for minority women is even more difficult. Not being able to see other successful women who look like you, it's harder to relate and develop a path on your own to move forward.
One of the key findings in WiM's survey is that there is significant overlap between what young women want in careers and the attributes of careers in manufacturing today. But the survey also found that, too often, young women are not aware of the opportunities available in manufacturing. What do you think can be done to spread the word to women about career options in modern manufacturing?
Increasing the visibility of women leaders in the field. Sameness breeds sameness. It's important that companies make a concerted effort in attracting and advancing women leaders. It's important that the current workforce of women let themselves be known and heard, to own their worth, and advocate for the other women who are not in the room. It can be so tempting to leave a situation when the environment is not ideal, but staying and being steadfast and graceful in your approach can help things change.
Our survey also found that the majority of women in manufacturing today would recommend the sector to young women considering career options. Would you recommend a career in manufacturing? And, if so, why?

Absolutely, whether you pursue higher education or not, the manufacturing sector offers very fulfilling and rewarding career opportunities. Manufacturing has evolved from advancements in automation, to strong safety practices, and ever-increasing work-life balance.
Why did you decide to join Women in Manufacturing? How do you personally find value in WiM membership?
Our company just joined this year. One of my lady colleagues brought the organization to my attention. A small group of us got together and made the decision and business case for why our organization would benefit from membership. My colleagues provided me with the support system necessary to gain approval from executive management. By providing WiM membership to all our company associates, we are using this as a base for identity and support.
To learn more about Universal Fibers, check out their website here.