#ThrowbackThursday: Just Horsing Around
Date posted
December 22, 2016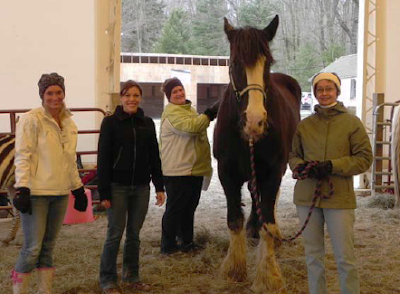 Founded in 2011, Women in Manufacturing, then called Women in Metalforming, held one of its very first programs in April of that year. The leadership program called "Partnering with Horses" was offered to a maximum of 18 people – both members and nonmembers of PMA, WiM's founding partner.
The innovative and unique two-day event was held at Pebble Ledge Ranch in Novelty, OH, and the purpose of the program was to encourage experiential leadership and team learning through working with seven gentle-hearted horses and one courageous zebra! Program attendees directly experienced leadership and innovation by establishing communication and trust with horses and a small group of peers. They led their horse teams through challenges, working to move with a herd of horses toward a common goal.
Although "Partnering with Horses" is not an annual WiM program, it was one for the books and one that we look back on fondly in this #ThrowbackThursday post! Since that program was held, WiM has integrated many more innovative programs and events, like our annual SUMMIT, Leadership Lab, Women in Automotive conference and more!