Back to WiM Kentucky Chapter Affiliated Members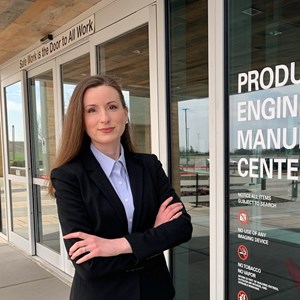 Megan Jones
Toyota Motor Manufacturing - Georgetown, KY
Contact information may be available to logged in members.
Professional Bio
Megan Jones is a manager in Toyota Motor North America (TMNA) Final Assembly Engineering (FAE). She is responsible for the Assembly Logistics Engineering team aiming to revolutionize vehicle plant material handling automation from dock to assembly line and beyond.

Joining Toyota in 2006 as an Engineering Co-op student, Jones has held roles as manager for TMNA Maintenance and Spare Parts (MSP), Toyota Motor Manufacturing, KY (TMMK) Assembly Production Engineering (PE) where she led Toyota Next Generation Architecture implementation as well as Toyota Motor Manufacturing (TMMMS) mother plant Assembly PE Trainer.

Jones is currently the Recognition leader for Women Influencing and Impacting Toyota (WIIT) North American Advisory Committee (NAAC) and previously served as WIIT, Georgetown Chapter Co-Chair. She is passionate about making STEM and Manufacturing careers a top choice for women's careers through her work as a member of Society of Women Engineers (SWE) and Women in Manufacturing (WiM).

Prior to Toyota, Jones was also a Center Quality and Materials Engineer at GE, Consumer and Industrial in Louisville, KY.

Jones is a graduate from the University of Louisville with a Master's of Mechanical Engineering and a Master's of Business Administration.
Company Toyota Motor Manufacturing - Georgetown, KY
Corporate Professional
---
Chapter Affiliation
Areas of Expertise
Assembly, Automotive, Engineering