Back to Events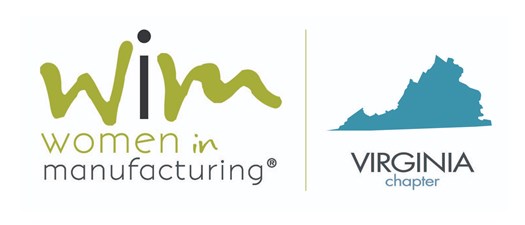 WiM Virginia | Leadership Conference: Day of Empowerment
Wednesday, November 17, 2021
Event Details
WiM Virginia presents
Leadership Conference:
Day of Empowerment
Wednesday, November 17, 2021
9 a.m. - 3 p.m. ET
Join us virtually via Webex
Cost to Attend: $55
Join the VMA  and WiM Virginia as we focus on the importance that women play in keeping manufacturing competitive in Virginia. 

This half-day virtual conference will include professional development sessions, roundtable discussions on important topics, and inspiring keynotes. We will also recognize STEP Ahead and Emerging Leader Award nominees from Virginia. The STEP (Science, Technology, Engineering and Production) Ahead Awards recognize women in manufacturing who exemplify leadership within their companies and recognizes the widespread impact women have on shaping the industry, whether they are running the company, designing the next big product or testing innovations that help make Virginia more competitive.
For More Information:
Kimberly Noonan
Director of Member Services
Virginia Manufacturers Association
(804)528-4482
Meet Our Speakers
Consuela Muñoz, Gallup® Certified Strengths Coach
This interactive workshop will introduce you to the power of strengths. Learn about the 34 strength themes and the 4 leadership domains and how they represent the most amazing parts of you. Learn how using your strengths with purpose will build your strengths-based confidence so that you will be heard and be respected. You will create a Strengths Story to use in the Confidence Power UP exercise, and hear about the 3 C's of presence and then complete an exercise to "see" yourself as a Confident Leader. You are more powerful than you know, and you are ready to unleash your power.
Melissa Villanueva Jass, Senior Organizational Development Business Partner and Women's Inclusion Network Chairperson, Yellow
Why is a professional brand important? Your professional brand is how people perceive you, it's your reputation. When well-defined and promoted effectively, your professional brand can lead to better opportunities in your career. Join us to learn more and walk away with tools to help you define your professional brand in a way that reflects your values and your future career ambitions.
Lorraine Amesbury Holder, Vice President of Operations, STIHL
Join us to celebrate the women of Virginia who have been nominated for the STEP Ahead and Emerging Leader awards for 2022. Nominees have demonstrated significant contributions to their company in the areas of Innovation & Leadership, Mentorship and Community Impact by advocating for manufacturing careers and volunteerism. We will also unveil the WiM-VA Engagement App and launch our WiM Virginia Chapter Leadership Program. We will be joined by this year's Keynote Speaker, Lorraine Amesbury Holder, Vice President of Operations, STIHL, to discuss her journey to a career in manufacturing, the importance of mentorship, and the role we all play in inspiring future women to pursue opportunities in industry.
Stacey Schroeder, Founder & President, EVelop
WiM provides a variety of development programs geared towards women at all levels of a manufacturing organization – from production to the C-Suite.  The WiM Leadership Programs include a Leadership Consortium, Leadership Institute for Women, WiM Management Development Program, and Empowering Women in Production.  Join Stacey Schroeder, Founder & President of EVelop, to explore each program offered through WiM and learn how you can gain knowledge and competencies needed to succeed by leveraging these resources.  Learn how you can access $25,000 in scholarships that will be awarded to WiM Virginia members in 2022 for participation in these programs.