Back to Events
Event Details
WiM Central Pennsylvania Presents
Maximize Training-Minimize Cost: Using WEDnetPA's Guaranteed Free Training Program
Tuesday, January 19, 2021
9 - 11 AM ET
Cost to Attend:
WiM Members = Free!
Nonmembers = $5
In 1999, the Commonwealth committed itself to giving Pennsylvania businesses a significant competitive edge. Created by the Department of Community & Economic Development — DCED — and made available through the Workforce and Economic Development Network of Pennsylvania — WEDnetPA — the program provides qualified employers training for new and existing employees. The training allows companies to stay competitive while keeping employee skills current and relevant.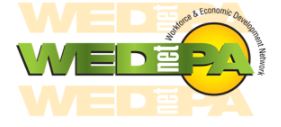 Angela Hensley, the Workforce Development & Special Programs Coordinator at Kutztown University will discuss eligibility, application, and reimbursement through the WEDnetPA program. As a small business owner for 10 years, Angela has first-hand knowledge of training on a small business budget. Prior to owning her own business, Angela worked with PA companies of all sizes assisting with the utilization of government grants and distribution, specifically working with the WEDnetPA grant to support her client's needs for employee training and retention programs.

Recent changes to the funding guidelines has made the process of getting free training money easier than ever; but funds are still left unallocated and unused! As with all budgeted programs, it is important to all PA manufacturers that we take advantage of the opportunity to develop our teams and strengthen our organizations.
Join us for this informative session to learn more about WEDnetPA and training reimbursements, or make sure you are up to date on the funding guidelines!
For More Information:
Tonya Nye
Senior Director of Customer Logistics
Wolfgang Confectioners
(484)588-8542