Back to Events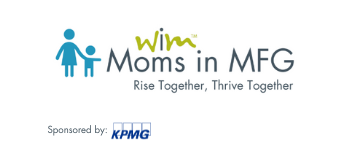 Moms in MFG Virtual Conference
Thursday, August 11, 2022
Event Details
Moms in MFG is an event series and community which focuses solely on supporting moms and caregivers working in manufacturing. Moms in MFG provides participants with valuable content as well as opportunities to connect and collaborate with fellow moms working in the industry through annual events as well as an online community. This year's Moms in MFG virtual conference will take place on August 11, 2022.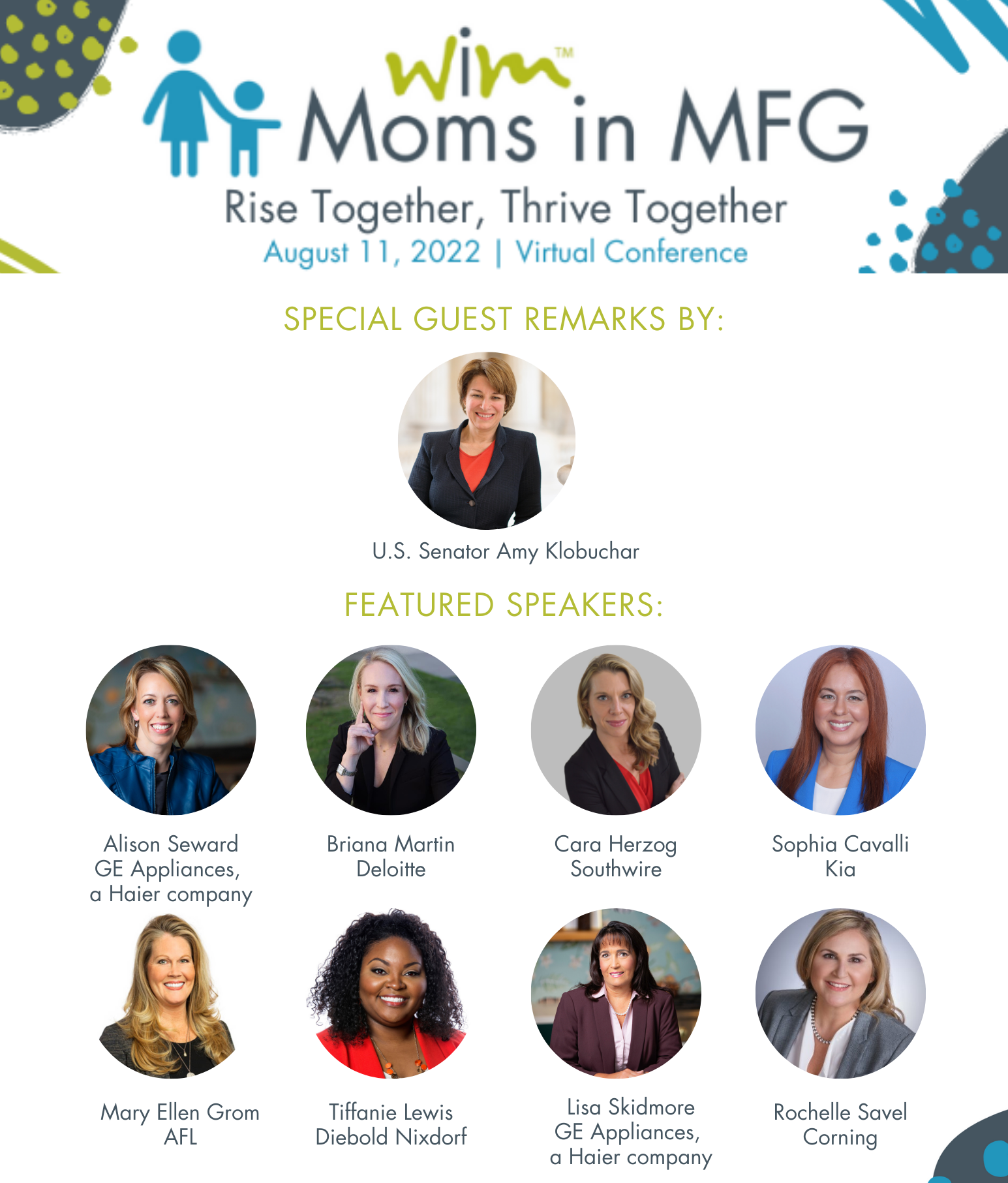 Agenda

(Times listed are Eastern Time)
11:30 - 11:45 a.m. – Special Guest Remarks
U.S. Senator Amy Klobuchar
11:45 a.m. - 12:00 p.m. – Welcome to Moms in MFG
Allison Grealis, President and Founder – Women in Manufacturing Association (WiM) and Women in Manufacturing Education Foundation (WiMEF)

With guest remarks by: Claudia Saran, Advisory Industry Leader for Industrial Manufacturing – KPMG, Moms in MFG Sponsor

12:00 - 12:30 p.m. – Lunch and Learn: State of Moms and Caregivers in Manufacturing
Briana Martin, Senior Manager - Deloitte Consulting LLP
12:30 - 1:00 p.m. – How to Advocate for What You Need
Alison Seward, Executive Director, Manufacturing Quality - GE Appliances, a Haier company
1:00 - 1:45 p.m. – Panel Discussion: How Companies Can Support Working Moms and Caregivers
Moderated by:
Mary Ellen Grom, Executive Director, Customer Experience Solutions - AFL
Panelists include:


Rochelle Savel, Supply Chain Management Director, EIG - Corning
Lisa Skidmore, Senior Director, Advanced Quality Engineering - GE Appliances, a Haier company
Cara Herzog, Vice President, Diversity, Equity and Inclusion - Southwire

Tiffanie Lewis, Vice President, HR Technology & Service Solutions - Diebold Nixdorf
1:45 - 2:00 p.m. – Afternoon Break
2:00 - 3:00 p.m. – Resilience & Belonging Workshop
Sophia Cavalli, DEI & Social Responsibility Sr. Manager - Kia America
3:00 - 4:00 p.m. – Roundtable Discussions
Battling Burnout
Kristen Dickinson, Senior Leader, Field Competency & Serviceability – Ingersoll Rand

Balancing Career During the Infant/Toddler Stages and Return to Work After Baby
Katie Kelly, Customer Experience Leader, Industrial Refrigeration - Trane Technologies; Lindsey Vida, Plant Manager - Ingersoll Rand

Evolution of the Workplace in Support of Working Parents


Danielle Chatman-Moore, MBA, North American Sustainability Manager - Dow, Inc.

Balancing Work and Life
Julie Knisley, Founder - Milk Street Baby



Starting and Sustaining an ERG
Elizabeth Sondecker, Manager, Strategic Sourcing, Starlink - SpaceX; Sam Raftery, Senior Materials Engineer - SpaceX

Careers and Older Children: How Parenting Needs Change Over Time
Miranda Eisermann, Early Talent Program Manager - Trane Technologies
4:15 - 5:00 p.m. – After-Hours Networking
For More Information:
Lisa Tarcy
Senior Manager of Programs and Events
Women in Manufacturing
(216)503-5700
Early-Bird Registration
WiM Member: $50
Non-Member: $100
(Valid through July 15, 2022)
Standard Registration
WiM Member: $75
Non-Member: $125
Thank you to our sponsors!