Back to Events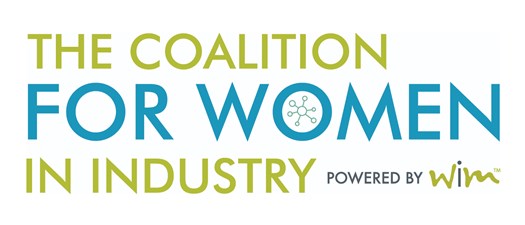 Coalition for Women in Industry Winter Meeting
Tuesday, February 21, 2023
at
6:00 PM (CST)
to Wednesday, February 22, 2023 at 2:30 PM (CST)
Event Details
Join the Women in Manufacturing (WiM) Association along with top industry associations and organizations at the Coalition for Women in Industry winter meeting scheduled for February 21 - 22, 2023 in Chicago, IL. Many thanks to the American Institute of Steel Construction (AISC) for hosting us at their national headquarters in Chicago, IL for this meeting. 
---
Built on WiM's reputation for innovation and collaboration the coalition meeting will include topics surrounding best efforts and practices to increase our collective impact on women in the industrial workplace, knowledge-based presentations and thought-provoking roundtable discussions.
Tuesday, February 21
6:30 p.m. - Networking Dinner (location TBD)
Wednesday, February 22
8:00 a.m. - Breakfast
8:30 a.m. - 9:00 a.m. - Welcome and Introductions
9:00 a.m. - 10:00 a.m. - Presentation and Roundtable Discussion
Effective Strategies for Female Advancement - Presented by Allison Gealis, President & Founder of the Women in Manufacturing Association
Description: During this interactive session WiM founder and president, Allison Grealis, will share WiM's journey in developing and executing their three formal professional development programs and year-round virtual learning designed to support the advancement of women in the manufacturing industry. The formal presentation will be followed by open dialogue providing attending individuals the opportunity to share other programs that have worked for their organizations. 
10:00 a.m. - 10:15 a.m. - Break
10:15 a.m. - 11:15 a.m. - Second Roundtable Discussion
Successful Mentoring Programs for Your Membership
11:15 a.m. - 12:15 p.m. - Interactive Workshop
What's Her Journey - Presented by Jenny Drescher, Co-Founder of The Bolder Co.
Description: This one-hour working session with all coalition attendees will be a unique opportunity for this intimate group to start mapping the careeer journey of a woman in manufacturing from her formative years to the top and beyond. We'll build her character, her journey, and identify keys to success that will help other women entering this dynamic world. Bring your spirit of fun and your wisdom for the beginning of a small project that has big possibilities. 

12:15 p.m. - 1:00 p.m. - Networking Lunch
1:00 p.m. - 2:00 p.m. - Open Roundtable Discussion
2:00 p.m. - Meeting Adjourns
---
Who should attend:
This meeting is specifically developed for senior executives, leaders, and presidents within industry associations, policy advocacy groups and empowerment organizations to collaborate on strategies to unify efforts to attract, retain, and advance women in traditionally male-dominated industries. 
For more information on the Coalition for Women in Industry or exclusive sponsorship opportunities contact Jen Kopf at jkopf@womeninmfg.org.
For More Information:
Jennifer Kopf
Programs and Events Manager
Women in Manufacturing